Tiny 64-Pin Packages Reduce PCB Footprint up to 59% for Devices Requiring High Performance, Lots of Functions in Limited Space
Renesas Electronics announced four new RX651 32-bit microcontrollers (MCUs) supplied in ultra-small 64-pin BGA and LQFP packages. The new lineup expands Renesas' popular RX651 MCU Group with a 64-pin (4.5 mm × 4.5 mm) BGA package that reduces footprint size by 59 percent compared to the 100-pin LGA, and a 64-pin (10 mm × 10 mm) LQFP that offers a 49 percent reduction versus the 100-pin LQFP. The MCUs address advanced security needs for endpoint devices employing compact sensor and communication modules in industrial, network control, building automation, and smart metering systems operating at the IoT edge.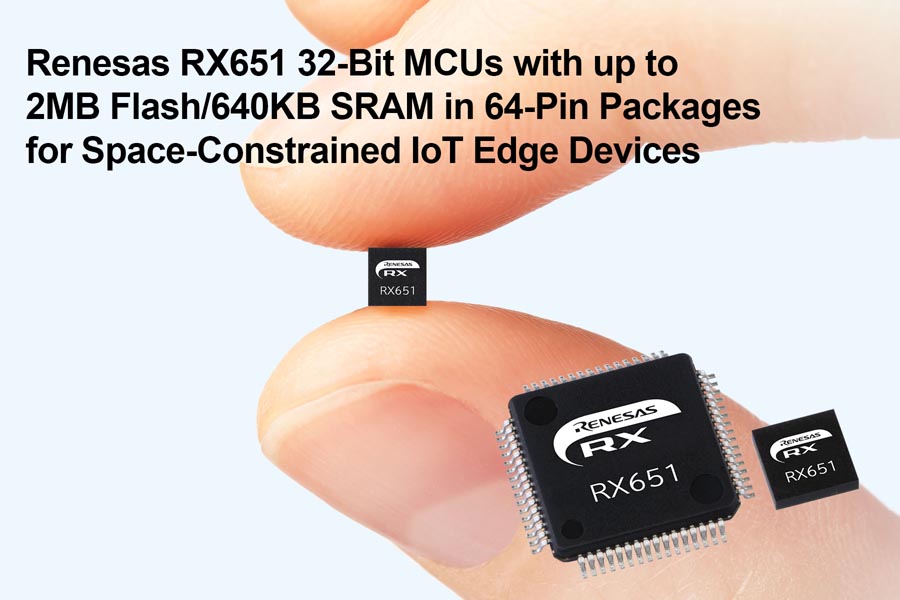 The RX651 MCUs integrate connectivity, Trusted Secure IP (TSIP), and trusted flash area protection that enable flash firmware updates in the field through secure network communications. The increase in endpoint devices operating at the edge has increased the need for secure over-the-air (OTA) firmware updates. The new RX651 devices support this reprogramming requirement with integrated TSIP, enhanced flash protection, and other technology advancements that offer a more secure and stable solution than other available solutions on the market.
Key Features of the RX651 64-pin MCUs
Enables advanced IoT edge devices:
The small 64-pin MCUs with enhanced security features are based on the high-performance RXv2 core and 40 nm process that provide superior performance with a 520 CoreMark® score at 120 MHz, and strong power efficiency with a 35 CoreMark/mA score as measured by EEMBC® Benchmarks.

Easy in-the-field firmware updates:
The integrated dual bank flash memory enables engineers to realize high root-of-trust levels through a combination of TSIP that protects the encryption key; encryption hardware accelerators including AES, 3DES, RSA, SHA, and TRNG; and code flash area protection to protect boot code from reprogramming. The dual bank flash function supports both BGO (Back Ground Operation) and SWAP, making it easier for manufacturers to execute in-the-field firmware updates securely and reliably.

Network connectivity features:
Optimized for connected industrial environments, the RX651 MCUs monitor the operating state of machinery from both inside and outside the factory, enabling data exchanges to change production instructions, and reprogram MCU memory to update equipment settings.
Pricing and Availability
The RX651 64-pin MCUs are available now from Renesas Electronics' worldwide distributors with prices starting at $4.58 USD in 10,000-unit quantities. Low-cost Renesas Target Boards and Renesas Starter Kits, combined with the e2 studio integrated development environment, are also available to confirm performance and jumpstart system development.
Target Board for RX MCUs family.