Holtek wishes to announce the release of its new range of 9 V battery Smoke Detector dedicated MCUs, the BA45F5420/BA45F5440/BA45F5450. These new devices all include a fully integrated smoke detector AFE, dual-channel IR LED constant current driver, a 3.3 V LDO and a high voltage piezoelectric siren driver. The BA45F5420/5440 are suitable for use in 9 V smoke detection alarms while the BA45F5450 is suitable for use in 9 V wireless smoke detection alarms.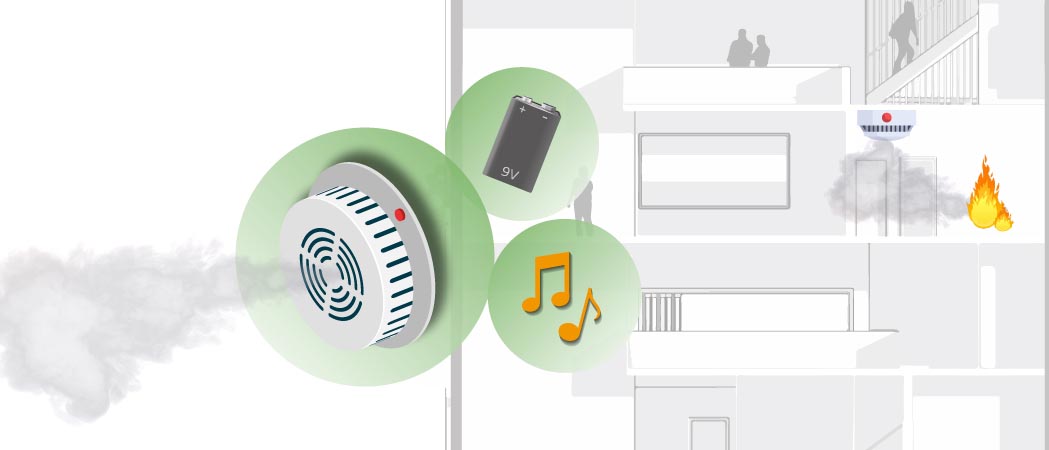 The devices contain a 1K×14/ 4K×16/ 8K×16 of Flash Program Memory, a 64×8/ 256×8/ 1024×8 RAM and a 32×14/64×8/128×8 EEPROM. With regards to peripheral features, the devices also include a 10-bit PTM, a 10-bit STM, a multi-channel 12-bit A/D converter, a 16-bit Voice D/A converter for the BA45F5450 as well as UART and SPI/I2C communication interfaces. The fully integrated smoke detector AFE contains filtering and amplifier circuits for the IR sensors. It is therefore only necessary to add IR sensors to implement a smoke detection function without the need for other external components. The dual-channel IR LED transmission constant current source provides a multi-level adjustable current function and supports a constant current driving capability of up to 360 mA and 205 mA for the two channels. The internal integrated high voltage piezoelectric siren driver circuit can directly drive the piezoelectric siren up to a volume of 85 dB over 3 meters at a voltage of 9 V. The integrated 16-bit voice D/A converter of the BA45F5450 can implement a voice alarm function.
The devices are supplied in 16-pin NSOP, 20-pin SSOP and 20/24/28-pin SOP package types. Compared with the previous BA45F5220/5240/5250 device, these new devices include an additional LDO and piezoelectric siren driver to reduce the external component requirements for 9 V battery powered applications, thus greatly improving the product competitiveness.