Texas Instruments introduced nano-IQ, precision voltage supervisor TPS3899 that monitors system voltages or pushbutton inputs as low as 0.51 V. When the voltage of SENSE drops below the VIT- threshold, /RESET will toggle after the programmed sense delay, set by CTS, has been reached. The TPS3899 asserts an open-drain or push-pull /RESET signal to active-low logic (RESET) or active-high logic (RESET). The /RESET output remains active until the SENSE voltage returns above the rising voltage threshold (VIT- + VHYS) for the reset delay set by CTR.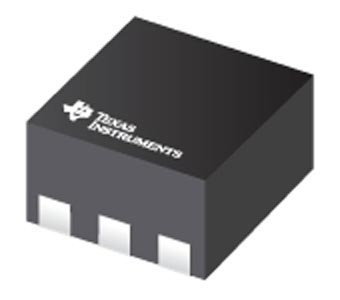 The TPS3899 family uses a precision reference to achieve ±1% threshold accuracy. The sense delay and reset delay time can be user-adjusted by connecting a capacitor to the CTS and CTR pins respectively. The TPS3899 has a nano quiescent current of 125 nA (typ) and is available in a small 1.5- mm × 1.5-mm WSON package, making the device well-suited for battery-powered and spaceconstrained applications. The device is fully specified over a temperature range of –40 °C to +125 °C (TA).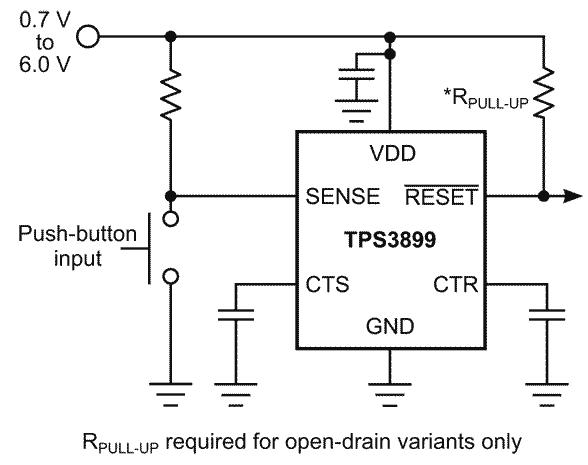 Typical Application Circuit.
Features
VDD range: 0.7 V to 6 V
Programmable sense and reset delay
Nano quiescent current: 125 nA (typ)
High threshold accuracy: ±0.5% (typ)
Precision hysteresis: 5% (typ)
Adjustable threshold voltage: 0.51 V (typ)
Multiple output topologies

DL: open-drain active-low
PL: push-pull active-low
PH: push-pull active-high

Temperature range: –40 °C to +125 °C
Package: 1.5-mm × 1.5-mm WSON
Applications
Electricity meters
Building Automation
Body Control Module (BCM)
Data center and enterprise computing
Notebooks, desktop computers, servers
Smartphones, hand-held products
Portable, battery-powered equipment
Solid-state drives
STB & DVR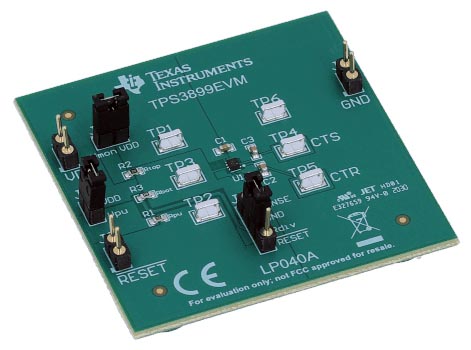 TPS3899EVM TPS3899 Nanopower Supervisor Evaluation
Module Board.