STMicroelectronics today unveiled four new members in the SPEAr microprocessor family, targeting embedded-control applications across market segments from computer peripherals and communication to industrial automation. Based on the latest ARM® core technology, ST's SPEAr microprocessors enable equipment manufacturers to develop complex yet flexible digital engines at a fraction of the time and cost of competing solutions.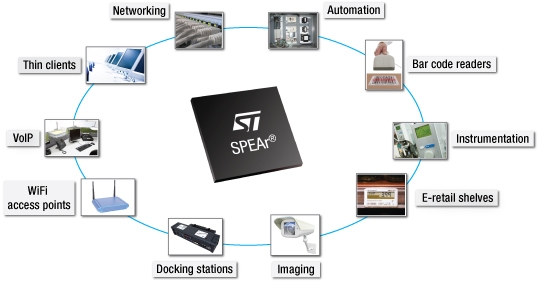 Manufactured in state-of-the-art low-power 90nm and 65nm HCMOS (high-speed CMOS) process technologies, ST's SPEAr (Structured Processor Enhanced Architecture) embedded microprocessors provide high levels of computing power and connectivity. The devices combine one or two advanced ARM9 processor cores (ARM926EJ-S up to 400MHz in typical conditions, or 333MHz in worst-case conditions of temperature and voltage) with memory interfaces, and a large set of IP blocks delivering connectivity, communication, and audio/video functions for different applications.
The SPEAr microprocessors target networked devices used for communication, display and control in applications including VoIP phones, wireless access devices, printers, thin-client computers, PC docking stations, bar-code scanners/readers, home appliances, residential control and security systems, and medical lab/diagnostics equipment.
The SPEAr family members are:
The SPEAr300 is an excellent choice for human-machine interface and security applications. It contains:
Camera Interface
LCD and Keyboard Controller
Crypto Accelerator
TDM Bus
USB 2.0
Fast Ethernet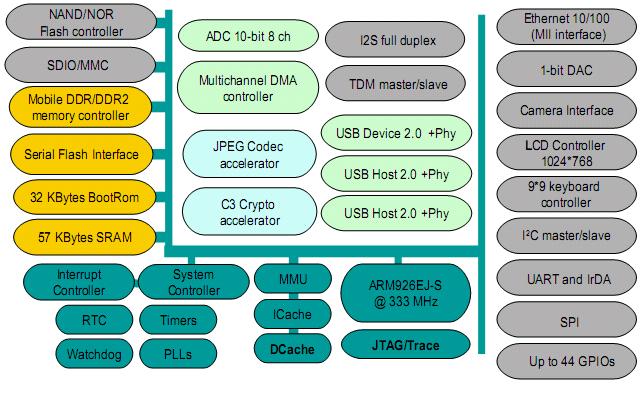 The SPEAr310 is tailored for telecom network applications. Integrated IP blocks include:
5 fast Ethernet ports
TDM Bus
2 HDLC ports
Crypto Accelerator
USB 2.0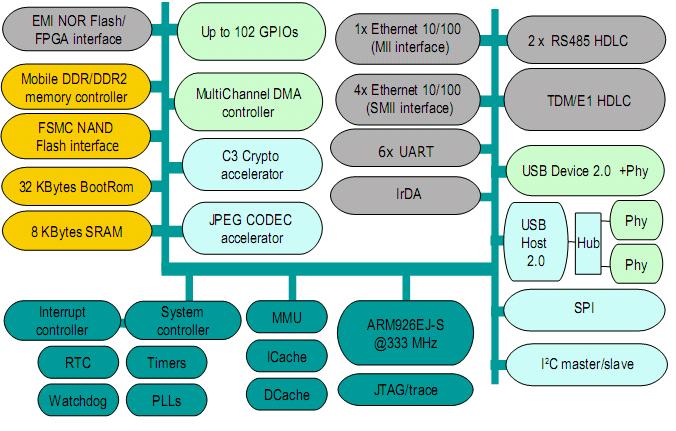 The SPEAr320 is suitable for factory automation and consumer applications. Its function blocks include:
2 CAN interfaces
4 Serial ports
Standard parallel port
LCD Controller
Crypto Accelerator
USB 2.0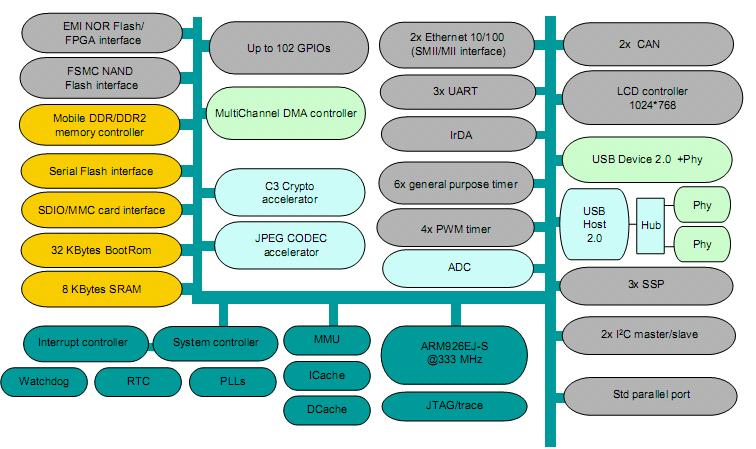 The dual-core SPEAr600, with benchmarked performance of 733 DMIPS (Dhrystone million instructions per second), targets highly compute-intensive embedded applications across market segments. In addition to the two cores, it contains:
Giga Ethernet
USB 2.0
External local bus access for glueless FPGA connection
LCD Controller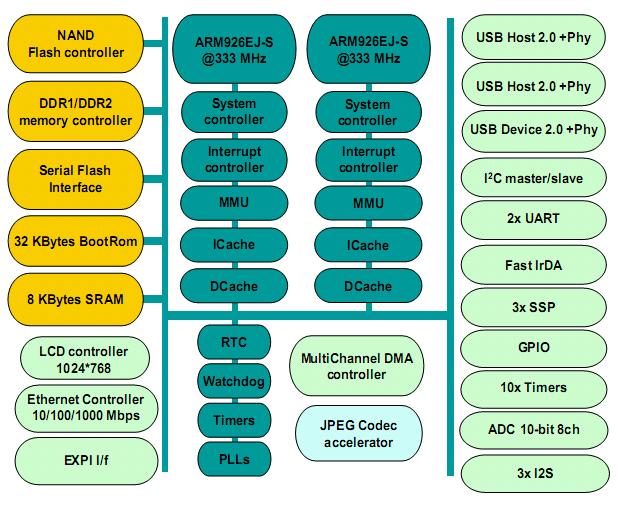 Facilitating a full-system project approach, ST provides SPEAr development kits that contain a complete set of elements to develop and test the customer system with minimum time and resource requirements.