Atmel Corporation, a leader in microcontroller and touch solutions, today announced the first standard product capacitive touch controller in the industry that is fully qualified for the automotive market. Based on the patented QTouch capacitive touch technology for buttons, sliders and wheels, the AT42QT1110 is a ready-to-use 11-key capacitive touch controller that meets all device specification requirements for the automotive industry. These products are ideal for automobile applications such as global positioning systems (GPS), window and mirror control, keyless remote entry and more.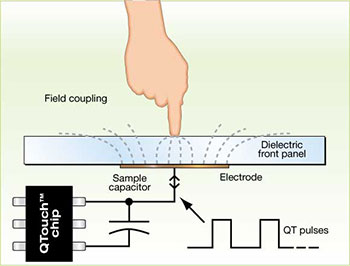 "As the automotive industry demands more touch-enabled interfaces for their systems, it becomes increasingly more important to ensure products are fully certified for this market," said Jon Kiachian, sr. director of touch products for Atmel Corporation. "Atmel has fulfilled this demand by being the first to ensure its standard product capacitive touch controllers are fully automotive certified so system designers can select Atmel products with confidence. Atmel's auto certified touch products address a broad array of user interface applications in the automotive industry ranging from keyless door entry to GPS systems and everything in between."
Atmel achieved this qualification by developing these products in a facility that is fully compliant with the ISO-TS-16949 and QS-9000 standards. The firmware is written according to the Motor Industry Software Reliability Association C (MISRA C) standard and qualified according to the AEC-Q100 (Automotive Electronic Council) standard. The Production Part Approval Process (PPAP) document is also available upon request.
Availability and Pricing
Samples of Atmel's AT42QT1110 are available now. Volume prices start at $1.17 USD for 10K quantities.
Atmel's AT42QT1110 is also available on non-automotive grade silicon for use in industrial and home appliance applications. These devices offer an identical feature set to the automotive-qualified devices without the AEC-Q100 qualification. With self-test functionality, Atmel's AT42QT1110 makes it easy to design a system which is compliant with the EN60730 standard – a European standard for home appliance devices for the safety of automatic electrical controls.