Novaled AG - a pioneer in the field of OLED (Organic Light Emitting Diode) technologies for lighting and display applications - will be exhibiting OLEDs and OLED applications at the Light + Building fair in Frankfurt.
At the 2010 Light + Building in Frankfurt, Novaled will be introducing its innovative long life organic LEDs. These new area light sources not only deliver unique design possibilities, but also enable completely new lighting applications by emitting light from a surface.

OLED light is perceived as being very natural due to the broad emission spectra of the organic materials. In addition, Novaled OLEDs provide a very high quality light with a CRI of up to 95. A range of OLED lighting from warm white to clear cold white will be exhibited. Furthermore, colors such as deep orange, rich red and intense blue will be shown. Color tunable OLEDs which cover a broad span of colors from light blue through clear white and all the way to orange will also be introduced.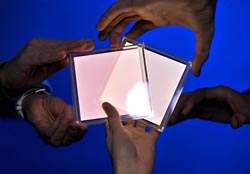 Transpsrent OLEDs of Novaled
The OLED devices which are manufactured on glass and metal substrates, are extremely thin, lightweight and come in various sizes from 25 cm2 up to 225 cm2 active area. Depending on the substrate material and device structure chosen, OLEDs can be transparent, have a diffuse appearance or behave like a mirror in the off state.

"We are at the forefront of a lighting revolution" states Gildas Sorin, CEO of Novaled AG. "OLEDs are like providing a new set of tones to composers, enabling them to create a breathtaking new world of music. Novaled is eagerly anticipating the exciting future of light and encourages the lighting industry to not only use but also experiment further with OLEDs".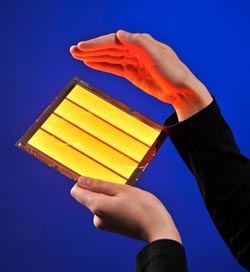 Orange OLED on metal substrate
Together with its different partners, the company will also introduce a variety of futuristic OLED luminaries, artistic light sculptures and signage at its booth to clearly emphasize the immense potential of this new area light source. Visitors will be welcome to experience the beauty of OLED lighting and understand the creative potential of OLED lighting design at the Novaled booth, which can be found in Hall 4.1, J51.