Atmel Corporation introduced the next generation of its general-purpose ARM-based embedded microprocessors (eMPUs) optimized for use in industrial applications. With the release of the SAM9M11 and SAM9G46 devices, Atmel is delivering tailored solutions for industrial embedded systems that require secured connectivity and authentication of applications via implementation of hardware encryption. These new devices are direct derivatives of the recently announced SAM9G45 and the SAM9M10, which was chosen as an Editor's Choice product by Embedded Computing Design in its February 2010 print edition.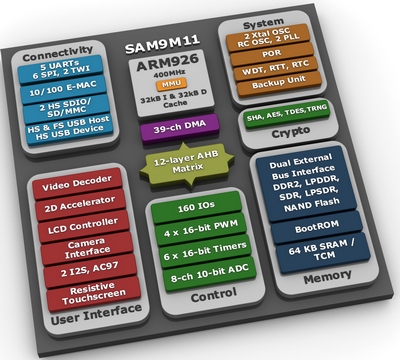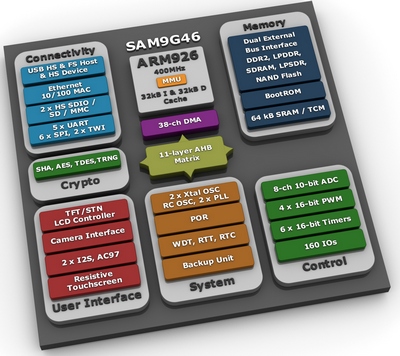 The highly-integrated ARM-based devices—ideal for industrial and building control, HVAC systems, POS terminals, alarm systems, printers and medical equipment—feature an integrated hardware encryption engine that supports the leading industry standards, and comes on top of a true random number generator which passes the NIST Special Publication 800-22 and Diehard Random Tests Suites. As a result, the devices can now address secured networked applications utilizing hardware encryption via AES (256, 192 and 128-bit key algorithm) compliant with the American FIPS publication 197 specification, 3DES (single or three-key algorithm) compliant with the FIPS PUB 46-3 specification as well as digital signature authentication using SHA1 and SHA256 algorithms compliant with the FIPS Publication 180-2.
"The market for secured communication applications in commercial building automation, alarm systems and POS terminals is shifting towards much higher speeds and significantly lower power consumption," said Jacko Wilbrink, product marketing director, Atmel. "At the same time, developers want to authenticate software downloaded over internet, incorporate fully featured video with a comprehensive set of user interfaces and connectivity options. With its new devices, Atmel is addressing all of these critical design requirements."
Besides the encryption engine, the SAM9M11 and SAM9G46 offer the same feature set found in the SAM9M10 and SAM9G45, including DDR2 memory support, high-speed serial communication, such as 10/100 Ethernet, HS SDIO/SD/MMC and HS USB 2.0 Host and Device, as well as TFT LCD controller, touchscreen support, and more.
The SAM9M11 is sampling now and will be in full production in the third quarter of 2010; the SAM9G46 will sample in summer 2010 with full production in fourth quarter 2010. Current SAM9M10 and SAM9G45 customers will be able to add powerful secured communication to their existing platforms while maximizing software reuse. Software development can be done using the AT91SAM9M10-G45-EK evaluation kit while encryption will be exercised on the chip itself once mounted in the final application.