Microchip Technology Inc., a leading provider of microcontroller, analog and Flash-IP solutions, today announced the eight-member PIC24FJ256DA microcontroller family, which integrates three graphics acceleration units and a display controller, along with 96 Kbytes of RAM. This integration reduces system costs and makes it practical to add advanced graphics displays for a wide range of embedded applications, by eliminating the need for external RAM and a display controller. Additional savings are achieved through the integrated peripherals for USB and capacitive touch sensing. To enable quick time to market, Microchip's Graphics Display Design Center provides a host of resources for application designers, such as the free and easy-to-use Graphics Library and Visual Design Tool.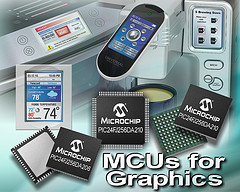 With consumers now accustomed to advanced graphics and touch sensing in their portable electronics, designers must bring these interfaces quickly and at low cost to a vast array of embedded products. Building on its broad portfolio of 8-, 16- and 32-bit PIC microcontrollers for segmented and graphics display applications, Microchip's PIC24FJ256DA family makes it feasible for designers to migrate beyond fixed-function, segmented LCDs to STN, TFT and OLED displays with up to VGA resolution. This family also features 24 channels of on-chip mTouch capacitive touch sensing, which enable a large number of buttons, sliders and keys. Additionally, the integrated Full-Speed USB Embedded Host, Device and On-the-Go module allows end users to easily upgrade software, log data and customize settings.
Features:
Graphics Controller Features:

3x Graphics Hardware Acceleration Units
Color Look-up Table (CLUT) with Maximum of 256 Entries
Direct Interface to Monochrome, C-STN, TFT, OLED
Resolution up to 640×480 @30Hz, 16 bpp, or 480×272 @60Hz, 16 bpp

Universal Serial Bus Features:

USB v2.0 On-The-Go (OTG) Compliant
Dual Role Capable – Can act as either Host or Peripheral
Low-Speed (1.5 Mbps) and Full-Speed (12 Mbps)USB Operation in Host mode
Full-Speed USB Operation in Device mode

Analog Features:

Up to 24x, Capacitive touch sensing
Up to 24x, 10-Bit, ADC at 500 ksps:
3x Analog Comparators with Programmable Input/Output Configuration

Power Management:

On-Chip Voltage Regulator of 1.8V
Switch between Clock Sources in Real Time
Idle, Sleep and Doze modes with Fast Wake-up and Two-Speed Start-up
Run Mode: 800 uA/MIPS, 3.3V Typical
Sleep mode Current Down to 20 uA, 3.3V Typical
Standby Current with 32 kHz Oscillator: 22 uA, 3.3V Typical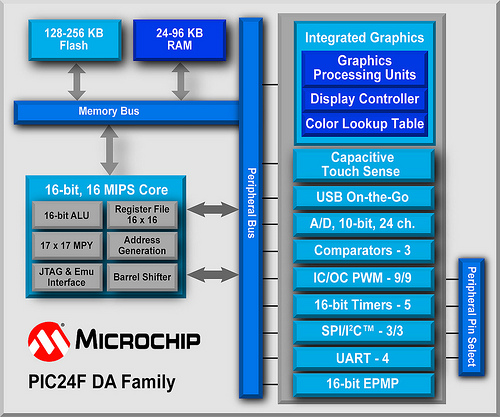 Example applications for the PIC24FJ256DA family include: consumer (thermostats, cordless phones, remote controls, gaming accessories); home appliance (coffee makers and other counter-top appliances, ovens, refrigerators, washing machines); industrial (points of sale, remote terminals); and portable medical (glucometers, blood-pressure monitors, portable ECGs).
Development Support
Microchip provides a complete development platform—along with Webinars and hands-on training at its worldwide network of Regional Training Centers—to make the design of embedded applications with modern graphical interfaces even easier. This platform comprises Microchip's free and performance-optimized Graphics Library, which comes with the full source code, supports multiple fonts and languages, and includes a host of pre-made graphics objects. Complementing this Library is the free Graphics Display Designer software, which enables first-time users with a visual wizard for designing user interfaces. The Graphics Library also comes with pre-configured interfaces for capacitive-touch pads and sliders, and resistive touch screens. Both tools are fully compatible with Microchip's free MPLAB Integrated Development Environment.
Rounding out this platform, Microchip created the PIC24FJ256DA210 Development Kit to enable out-of-the-box graphics development. This kit is available today for $399.99 (part # DV164039), and includes:
PIC24FJ256DA210 Development Board, with capacitive-touch pads, USB Host and Device connectors, extra Flash and RAM to store more objects and fonts, an expansion slot for PICtail Plus daughter boards, and a display connector
Microchip's 3.2" QVGA and Prototype Graphics Display Boards
MPLAB ICD 3 for programming and debugging.