Microchip Technology Inc. announced the Microstick for dsPIC33F and PIC24H development board, which provides a complete, low-cost solution for designing with Microchip's 16-bit PIC24H microcontrollers and dsPIC33F Digital Signal Controllers (DSCs), in a compact 20×76 mm footprint. At the low cost of $24.99, the Microstick offers an integrated USB programmer/debugger, which shortens learning curves. For maximum flexibility, the Microstick can be used stand-alone or plugged into a prototyping board. Additionally, educators are eligible for a 25% discount.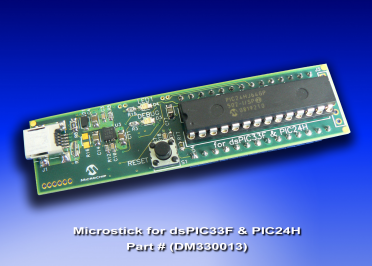 Many engineers, educators, students and hobbyists need a low-cost solution for working with and debugging code on 16-bit microcontrollers and DSCs. In addition to its other benefits, the Microstick is populated with a socketed microcontroller that can be easily swapped out. The Microstick works with the PIC24HJ64GP502, which is the highest performance 16-bit MCU in the industry, and the dsPIC33FJ64MC802 DSC, which seamlessly blends DSP and MCU resources into a single architecture. Software support includes the same free MPLAB Integrated Development Environment (IDE) and software libraries that work with all of Microchip's 8/16/32-bit PIC microcontrollers and DSCs. Additionally, the dsPIC33F DSCs are supported by the free demo version of Microchip's Device Blocksets for the MATLAB language and Simulink environment, which work seamlessly within the MPLAB IDE.
This combination of low-cost tools and free software provides an industry-leading platform for experimentation and development of smart-sensor and a host of other embedded-control applications.
Key Features:
Low Cost – Priced at $24.99 at Microchip Direct
Integrated USB programmer / debugger – No external debugger required
USB Powered – Ease of use, No external power required
Socketed dsPIC/PIC24 – Flexible, Easy device replacement
0.025" Pin headers – Enables plug-in to Breadboard with room for jumper wires
Easy access to all device signals for probing
Small size - Smaller than a stick of gum at 20 x76mm – Easily Portable
On board debug LED, Utility LED and Reset Switch
Free demo code
"Microstick is great for anyone who needs a complete, low-cost development solution for working with the highest performing 16-bit microcontrollers available," said Derek Carlson, vice president of Microchip's Development Tools Group. "Our team worked with university professors to ensure that this board fits nicely into their curricula, but the benefits of this platform extend to a broad range of designers who want get started with embedded development."
Availability & Pricing
The Microstick for dsPIC33F and PIC24H (part # DM330013) is available today for $24.99 each. The dsPIC33FJ64MC802 DSC and PIC24HJ64GP502 microcontroller are both included in the kit. Educators are eligible for a 25% discount.
Schematic diagram Microstick Development Board