Highly Integrated Total Power Management IC with Built-In CPU Ideal for Portable Consumer Applications
Integrated Device Technology, Inc. announced a highly integrated microcontroller-based Intelligent System Power Management Solution targeted for portable consumer products, such as Smartphones, portable navigation devices, mobile Internet devices and eBooks.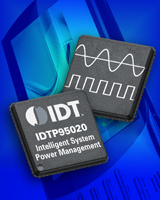 The unique architecture of the IDT P95020 features a best-in-class high-fidelity audio subsystem, clock generation, resistive touch controller, backlight LED driver, Li+/Polymer battery charger, multi-channel DC-to-DC converters and a high resolution analog-to-digital converter (ADC). By embedding a microcontroller, the IDT P95020 offers full programmability and flexibility into designs using leading multimedia application processors. All of the functional blocks can be accessed via I2C. The programmable regulators satisfy the dynamic voltage adjustment required by application processors.
"The IDT P95020's innovative architecture, with an embedded CPU, can manage all on-chip resources and also offload general housekeeping and I/O processing tasks from the application processor. This unique feature, along with programmable system power regulation blocks and an on-chip power management scheme, results in higher system performance and longer battery life," said Farshad Zarghami, senior director of product marketing at IDT. "Building around the IDT digital heritage combined with leadership in high-performance silicon timing, PC audio codec excellence and integration of newly developed high-performance mixed-signal mega blocks, the IDT P95020 is the first in a series of next-generation Intelligent System Power Management solutions being developed by IDT as part of its mixed-signal SoC growth strategy."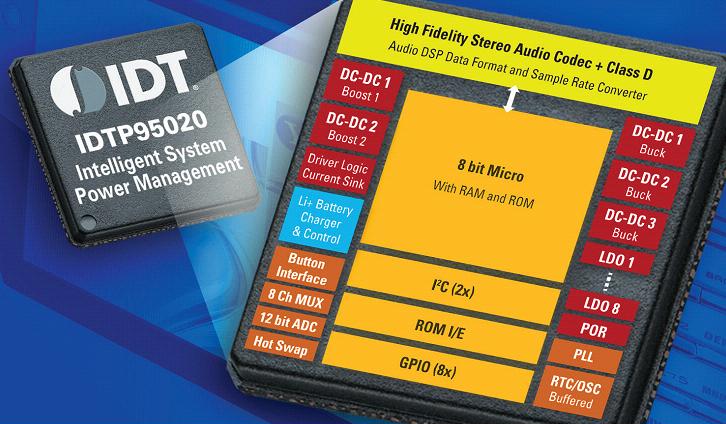 KEY FEATURES
Quick Turn Customization
Embedded Microcontroller

Master Controller during Power Up & Power-Down
Initialization and power sequencing
Dynamic Power Management via I2C bus interface
Up to 10 General Purpose I/Os available
General house keeping for P95020 and other devices

Audio Features

4 Channel CODEC with 24-bit resolution and internal
registers for status and control
Integrated 2.5 Watt Mono Class D Amplifier
with Filterless Operation.
Stereo cap-less headphone driver
Differential Analog Audio Line Inputs
Dual Mode Microphone Inputs (Analog or DMIC)

Battery Charging Circuit

Autonomous Li-Ion/Li-Poly charger up to 1.5A
Automatic Load Prioritization
Advanced Battery Safety features
High efficiency switch-mode EnergyPath controller
USB or Wall-mounted Charging
Programmable Current Limit
Automatic end-of-charge control

Power Management Features

All Converters:

Power up/down sequence field reprogrammable with external EEPROM
Dynamic voltage scaling
Host or I2C output enable / disable

Buck DC-DC PWM converters with PFM mode

Two at 500mA, 0.75V to 3.7V
One at 1000mA, 0.75V to 3.7V

Boost DC-DC converters

One at 1.5 A peak on inductor, 4.05V to 5.0V
One LED supply with 2 W total output power

Two programmable current sinks, 25mA each
Voltage limited to rating of external FET & diode

Linear Regulators

Three LDOs at 150mA, 0.75V to 3.7V
Four LDOs at 50mA, 0.7V to 3.7V
One always-on LDO at 10mA, 3.3 or 3.0V

ADC and Touch Screen Controller

4-wire touch screen interface
One direct battery measurement channel
One direct VSYS measurement channel
One direct charge current measurement channel
On-Chip temperature measurement
Four auxiliary analog input channels (shared with GPIO pins)
Touch pressure measurement
Sample rate: 62.5k SPS
12 bit resolution, DNL: -1~+2 LSB, INL: +-2
On-chip 2.5V reference
The IDT P95020 is the latest generation of cost-effective, customizable Power Management Integrated Circuits (PMIC) that provide optimum performance, functionality, programmability and flexibility to the system designer of portable consumer applications. Its subsystems consist of multiple switch-mode DC-to-DC converters and low-dropout (LDO) regulators, battery charge management, white LED drivers, low-power stereo audio and voice codecs with a mixer function, Class-D amplifier and headphone driver, a PLL for on-chip and off-chip clock generation, and a touch-screen controller. The embedded CPU utilizes on-board system management resources, such as instrumentation SAR 12-bit ADC and a real-time clock to provide optimum flexibility while reducing overall system power dissipation. The IDT P95020 PMIC is the first of its kind to integrate all the system power regulation and management functions along with human interface subsystems, such as audio and touch user interfaces.
IDTP95020 Block diagram

To help customers design their next-generation devices using the IDT P95020, IDT provides evaluation kits, pre-defined sample scripts and the IDT GUI-based scripting tool.