STMicroelectronics announced the STM32 Discovery Kit, a hardware development platform priced at less than $10 and supported by either free or very-low-cost downloadable development tools from major third-party vendors Atollic, IAR and Keil.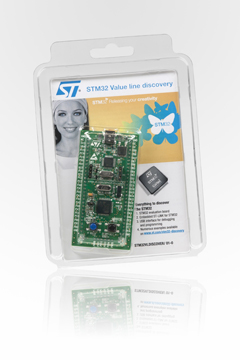 As an ultra-low-cost and convenient starter platform, the STM32 Discovery Kit is particularly suited to the STM32 Value Line microcontrollers. The USB-powered board is straightforward to set up and use by plugging into a PC. It is populated with a 24MHz, 64-pin STM32F100RBT6B Value Line device featuring a 128Kbyte Flash plus multiple timers, analog peripherals, and industry-standard serial interfaces. The included ST-LINK in-circuit debugger allows work to start without further costs. Extension connectors provided on the board enable easy connection to other boards or devices for deeper testing of the microcontroller peripherals. In addition, 15 ready-to-run applications are available at www.st.com to help developers evaluate microcontroller features.
Features
STM32F100RBT6B microcontroller Discover STM32 with STM32 Value line, including 128-Kbyte Flash, 8-Kbyte RAM in a 64-pin LQFP
Self powered by USB cable between PC and STM32 Value line Discovery
Immediate plug-and-play demonstration
Can supply target application with 5 V and 3 V
Adapts the demo to the future application environment
On-board ST-Link with

USB interface for programming and debugging
selection mode switch to use the kit as a standalone

ST-Link (with SWD connector)
Non-intrusive debug with the in-circuit debugger present on STM32 Value line Discovery. The kit can be used as an ST-link for your own board.
Extension header for all QFP64 I/Os Ideal for prototyping and easy probing. Enable quick connection to a prototyping board
Large number of free, downloadable ready-to-use software examples
Fast startup, accelerate your developments
"This Discovery Kit is the perfect tool both for getting started with, and fully evaluating, the capabilities of ST's STM32 microcontrollers," said Semir Haddad, Marketing Manager for STMicroelectronics' 32-bit Microcontrollers. "The kit is a fully integrated development environment including board, debugger, programmer and compiler. Developers will be able to benefit from the kit's extensive capabilities as a low-risk and low-investment prototyping platform."
The STM32 Discovery Kit further extends the accessibility of ST's STM32 family featuring the advanced ARM Cortex-M3 32-bit processor. There are currently about 135 STM32 variants, offering price/performance choices from the cost-conscious Value Line to the 72MHz Performance Line featuring up to 1-Mbyte Flash memory. Other STM32 lines include the USB Access Line and Connectivity Line, which features industry-standard communication peripherals and the ultra-low-power STM32L series. Pin assignments, software and peripherals are compatible across all variants; ensuring outstanding flexibility for developers.