International Rectifier, a world leader in power management technology, introduced the iP1837 and iP1827 iPowIR® voltage regulators for point-of-load (POL) applications including servers, netcom, data storage and telecom equipment requiring high current.
The iP1837 and iP1827 devices integrate a control MOSFET, synchronous FETKY®, bootstrap diode, bootstrap capacitor and internal over-current protection in a compact 7.7 mm × 7.7 mm LGA wireless package, reducing component count and shrinking PCB size by 20 percent compared to discrete solutions.
The new devices feature true differential voltage sensing for precise regulation, ±0.5 percent accurate reference voltage over-temperature, precision dead time trim to maximize efficiency, and body braking to optimize transient response. Additionally, the iP1837 and iP1827 are pin compatible for 25 A and 35 A applications, offer wide input voltage range of 1.5 V to 16 V, programmable frequency up to 1.5 MHz, flexible 5V bias or 3.3V bias/single input, and are optimized for 12 V input operations and low output voltages.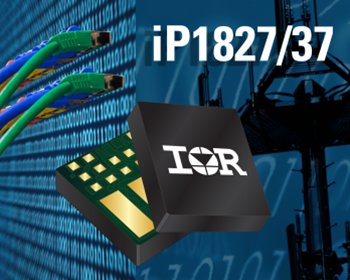 The devices are fully protected and feature enhanced thermally compensated internal hiccup over-current protection allowing flat current limit over-temperature. Additional features include pre-bias start-up, over-voltage protection, thermal shutdown, enable pin with voltage monitoring capability, power good output, and programmable soft start.
Typical iP1837/iP1827 Connection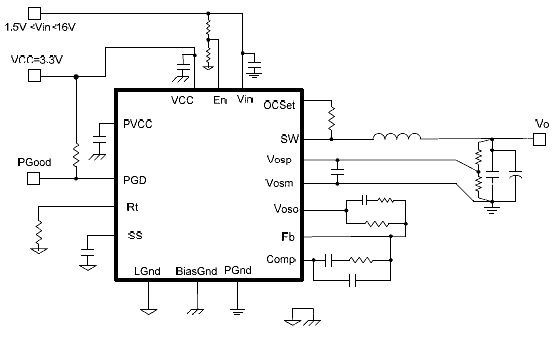 Specifications
Part Number

Size
(mm)

Package
Style

Circuit

VIN Range
(V)

VOUT Range
(V)

IOUT
(A)

Switching Frequency
(kHz)

iP1837

7.7 × 7.7

LGA

Single Output

1.5 – 16

0.6 – 0.75Vin

35

250 – 1,500

iP1827

7.7 × 7.7

LGA

Single Output

1.5 – 16

0.6 – 0.75Vin

25

250 – 1,500
Reference Design

Featured Part

VIN Range
(V)

VOUT Range
(V)

IOUT
(A)

Switching Frequency
(kHz)

IRDCiP1837

iP1837

12

1.05

35

600

IRDCiP1827

iP1827

12

1.05

25

600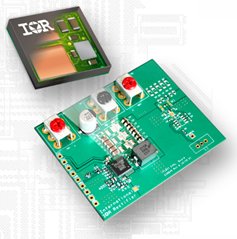 Availability and Pricing
Pricing begins at US $5.90 each and US $4 each for the iP1837 and iP1827 respectively in 100,000-unit quantities. Pricing for the IRDCiP1837 and IRDCiP1827 cost US $94 per kit. Production orders are available immediately. Prices are subject to change.