Texas Instruments (TI) Incorporated announced a family of low noise, high-speed 12V CMOS operational amplifiers from the company's Burr-Brown product line. These new amplifiers are ideal for driving 16-bit analog-to-digital converters (ADCs), as well as active filter, transimpedance amplifier, optical networking and portable audio applications. (See'www.ti.com/sc03206).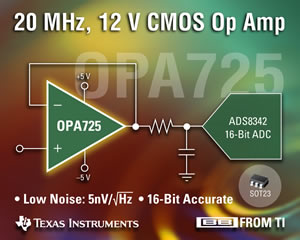 The OPA725 and OPA726 combine excellent AC characteristics - 20MHz bandwidth, 30V/us slew rate, 6nV/rtHz noise and 0.0003% harmonic distortion - with fast 16-bit settling time (600ns), low bias currents (less than 200pA) and excellent CMR (>94dB), PSR and AOL (>110dB). As a result, these devices are well suited for buffering high-performance 16-bit ADCs, such as TI's ADS8342 - a 16-bit, 250kSPS, four-channel ADC.

The input common-mode range extends to ground for true single-supply operation. The output swings to within 150mV of the rails, maximizing dynamic range. The shutdown versions (OPAx726) reduce the quiescent to less than 6uA and feature a logic ground pin for easy shutdown in dual supply application.

For ease of use, the OPA725 and OPA726 are fully specified and tested over the full 4V to 12V supply range. All are specified for operation from -40C to +125C.
Available Today
The OPA725 (single version) comes in a SOT23-5 and SO-8. The OPA2725 (dual version) comes in an MSOP-8 and SO-8. The OPA726 (single with shutdown) is packaged in an MSOP-8. The OPA2726 (dual with shutdown) is available in an MSOP-10.

The OPA725 and OPA726 are priced from $0.85 in 1,000 piece quantities (suggested resale price). The OPA2725 and OPA2726 are priced from $1.35 in 1,000 piece quantities (suggested resale pricing).