James Morra
Electronic Design
Syntiant, an Irvine, California-based startup with big name backers like Intel and Microsoft, said its custom chips could be used to push Amazon's Alexa into smaller, battery-powered devices like wirebles and wireless headphones that wake themselves up when they hear the voice assistant's wake word or other commands. Amazon just approved its deep learning accelerators for use with Alexa Voice Services (AVS).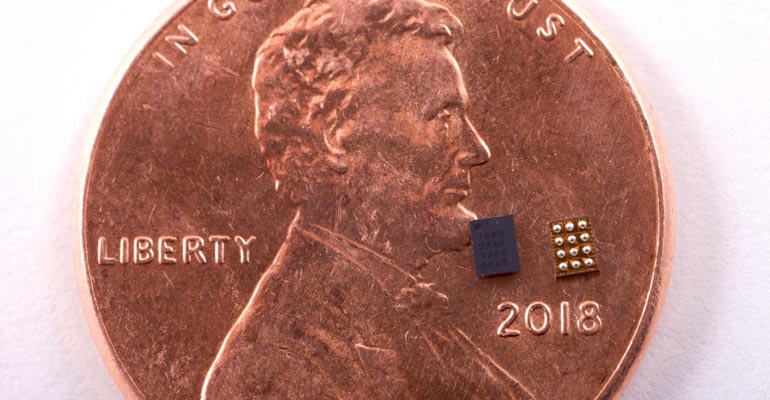 The company's NDP100 can be programmed to continuously listen for 64 wake words or specific sounds – like glass breaking or a baby crying – with power consumption in the range of 150 µW and more than 100 KB of SRAM. "These chips are purpose-built for keyword spotting such as wake words like Alexa, and now our processors can be used for quickly developing voice applications in battery-powered devices," chief executive Kurt Busch said in a statement.
Syntiant, which was founded by former engineering executives from Broadcom, has raised over $30 million in funding from investors including Microsoft's M12, Amazon's Alexa Fund, Applied Ventures, Intel Capital, Motorola Ventures, and Robert Bosch Venture Capital. The startup has been tapping into the emerging market for voice-activated Internet of Things devices using Alexa and other voice assistants such as Baidu's DuerOS, Apple's Siri and Google's Assistant.
Syntiant's chips, based on the 40-nanometer node, connect directly to digital microphones or other sensors, shaking the dormant system awake after hearing wake words such as "Alexa" or "Google" or other voice controls. Once the system comes around, the chips alert it to what was captured by the microphone. The chip, nearly as small as Abraham Lincoln's nose on a penny, saves three seconds of audio in 112 KB of SRAM in case the system is slow to wake up.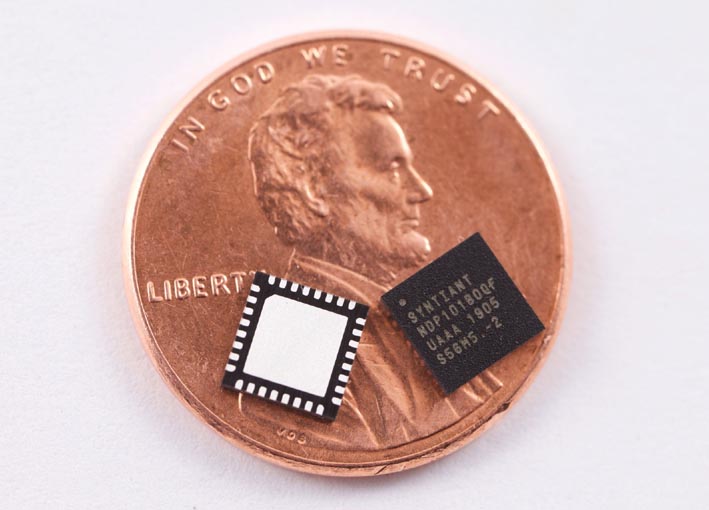 The NDP100 is crammed inside a 1.4 mm by 1.8 mm package, making it compact enough for small-battery systems such as headphones, thermostats and remote controls. The NDP101 is slipped inside a 5 mm by 5 mm QFN package and adds general-purpose I/O to serve as the applications processor in smart speakers, refrigerators, and other devices with additional space. Amazon qualified the chips for close-talk voice interfaces running Alexa, Syntiant said.
Syntiant rolled out the chips to customers trying to add artificial intelligence to low-cost, low-power Internet of Things devices that have to conserve their limited battery life in the first quarter of 2019. The chips can pump out about 2 trillion operations per watt, giving them more than 100 times the energy efficiency of the CPUs and DSPs currently used to detect keywords. They are expected to start shipping before the end of the year for less than $10 each in high volumes.
The custom chips are designed to handle the multiply-and-accumulate – more commonly called MAC – operations at the heart of deep learning. Syntiant conserve power by carrying out carry out 4-bit calculations, which require roughly half the power compared to more common 8-bit operations, and reducing data movement between the compute and memory. Syntiant is also building custom chips that use analog computing in flash memory to save more power.
Syntiant is trying to take the inference phase of machine learning out of the cloud. Running inference inside battery-powered devices cuts latency that can delay Alexa's responses to questions or voice commands. Training today takes place inside data centers using Nvidia's GPUs or Google's TPUs that can sort through large batches of data using the Tensorflow software library. Intel's Xeon CPUs are the current standard for running inference in the cloud.
Syntiant has rolled out programming tools that transfer trained algorithms onto its custom ASICs.
Sanjay Voleti, senior manager of device enablement at Amazon's Alexa Voice Services, said in a statement that the NDP100 "takes a unique approach to wake word detection on voice-enabled devices." He said he was looking forward to seeing "developers begin using this technology in their devices and deliver new Alexa experiences for customers." Amazon has also approved chips from Synaptics, Qualcomm, Xmos and Knowles for use with AVS.