Kinetis is the most scalable portfolio of low power, mixed-signal ARM Cortex-M4 MCUs in the industry. Phase 1 of the portfolio consists of fve MCU families with over 200 pin-, peripheral- and software-compatible devices. Each family offers excellent performance, memory and feature scalability with common peripherals, memory maps, and packages providing easy migration both within and between families.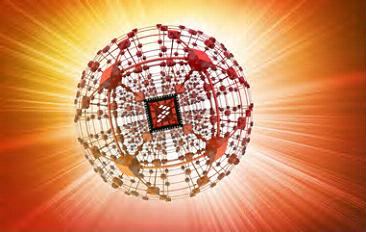 The K30 MCU family is pin, peripheral and software compatible with the K10 MCU family and adds a flexible low-power segment LCD controller with support for up to 320 segments. Devices start from 64 KB of flash in 64QFN packages extending up to 512 KB in a 144MAPBGA package with a rich suite of analog, communication, timing and control peripherals.
Common features among the K10 family
Operating characteristics

Voltage range 1.71V - 3.6V
Flash memory programming down to 1.71V
Temperature range (TA) -40 to 105°C
Flexible modes of operation

Core features

Next generation 32-bit ARM Cortex-M4 core
Supports DSP instructions
Nested vectored interrupt controller (NVIC)
Asynchronous wake-up interrupt controller (AWIC)
Debug & trace capability

2-pin serial wire debug (SWD)
IEEE 1149.1 Joint Test Action Group (JTAG)
IEEE 1149.7 compact JTAG (cJTAG)
Trace port interface unit (TPIU)
Flash patch and breakpoint (FPB)
Data watchpoint and trace (DWT)
Instrumentation trace macrocell (ITM)

System and power management

Software and hardware watchdog with external monitor pin
DMA controller with 16 channels
Low-leakage wake-up unit (LLWU)
Power management controller with 10 different power modes
Non-maskable interrupt (NMI)
128-bit unique identification (ID) number per chip

Clocks

Multi-purpose clock generator

PLL and FLL operation
Internal reference clocks (32kHz or 2MHz)

12MHz to 32MHz crystal oscillator
32kHz to 40kHz crystal oscillator
Internal 1kHz low power oscillator
DC to 50MHz external square wave input clock

Memories and Memory Interfaces

FlexMemory consisting of FlexNVM (non-volatile flash memory that can execute program code, store data, or backup EEPROM data) or FlexRAM (RAM memory that can be used as traditional RAM or as high-endurance EEPROM storage, and also accelerates flash programming)
Flash security and protection features
Serial flash programming interface (EzPort)

Security and integrity

Cyclic redundancy check (CRC)

Analog

16-bit SAR ADC
Programmable voltage reference (VREF)
High-speed Analog comparator (CMP) with 6-bit DAC

Timers

1×8ch motor control/general purpose/PWM flexible timer (FTM)
1×2ch quadrature decoder/general purpose/PWM flexible timer (FTM)
Carrier modulator timer (CMT)
Programmable delay block (PDB)
1×4ch programmable interrupt timer (PIT)
Low-power timer (LPT)

Communications

SPI
I2C with SMBUS support
UART (w/ ISO7816, IrDA and hardware flow control)

Human-machine interface

GPIO with pin interrupt support, DMA request capability, digital glitch filter, and other pin control options
Capacitive touch sensing inputs
LCD display driver

Supports 3V or 5V glass
Configurable frontplane and backplane pins
Segment failure detection mechanism
K30 Block Diagram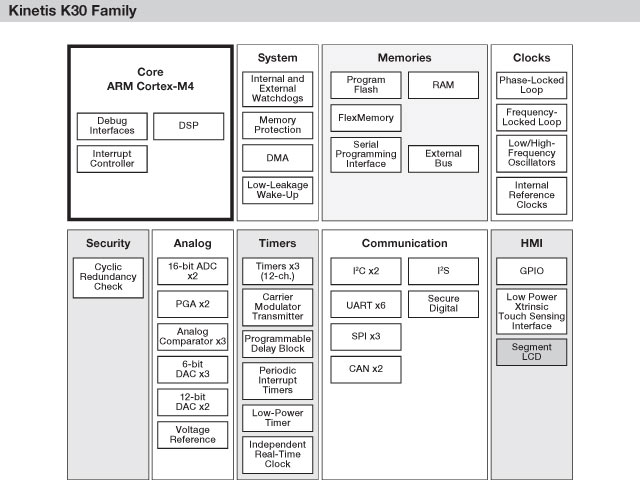 Memory and package options for the K30 family.
The following table summarizes the memory and package options for the K30 family. All devices which share a common package are pin-for-pin compatible.
Perf.
MHz

Memory

Package

Flash,
(KB)

Flex
NVM
(KB)

Flex
RAM
(KB)

SRAM
(KB)

32
QFN

48
QFN

48
LQFP

64
QFN

64
LQFP

80
LQFP

81
BGA

100
LQFP

104
BGA

144
LQFP

144
BGA

50

64

32

2

16

-

-

-

+

+

+

+

-

-

-

-

128

32

2

32

-

-

-

+

+

+

+

+

+

-

-

72

128

32

2

32

-

-

-

+

+

+

+

+

+

-

-

256

32

2

64

-

-

-

-

-

+

+

+

+

-

-

100

128

128

4

32

-

-

-

-

-

-

-

-

-

+

+

256

256

4

64

-

-

-

-

-

-

-

-

-

+

+

512

-

-

128

-

-

-

-

-

+

+

+

+

+

+