New Media Processor Enables Unsurpassed Image Processing in Connected Devices
Conexant Systems, Inc. announced a single-chip media processor for multimedia display products including connected Web devices and interactive video displays, and applications such as digital signage, home automation/security, and user interface (UI) control. The second-generation CX92755 system-on-chip (SoC) solution supports advanced functionality including high-definition (HD) video encoding and decoding, video/graphics overlay, image processing, and integrated audio and power supply control.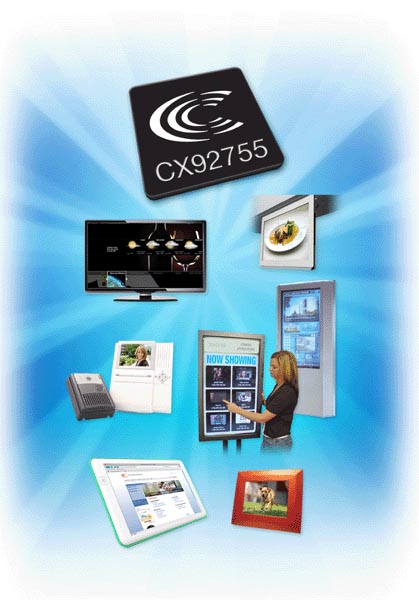 About the CX92755
The CX92755 is based on an ARM™ Cortex-A8 processor and NEON™ single instruction, multiple data (SIMD) engine. The highly integrated SoC also includes an advanced HD video codec and graphics processor. These features enable the acceleration of advanced user interface application environments, as well as multimedia and signal processing algorithms. Integrated L1 and L2 cache further enhances system performance. In addition, the SoC features include a PCI Express™ interface to expand peripheral interface options, and DDR3 memory to enable high-speed data transfers.
The CX92755 integrates peripheral functions including a Class-D amplifier with speaker and line-out, a microphone input, backlight regulator, power supply controller, and touchscreen controller. This high level of integration allows manufacturers to reduce bill-of-material component counts, which simplifies the design process and lowers system costs.
The SoC also includes an embedded high-performance graphics processor, which supports display list processing, alpha blending, and color key control for advanced user interface operation and display effects. Major network connectivity standards are supported including Wi-Fi®, 3G, Bluetooth®, and integrated Ethernet. The SoC also integrates Conexant's HSSD/Smart DAA® interface, and an infrared device association (IrDA®) controller to meet regional peripheral communications requirements. Additional features include Conexant's advanced power management techniques, which support voltage scaling, clock gating, and dynamic power control functions for managed power applications.
Availability, Packaging and Pricing
The CX92755 will be available in sample quantities in the second calendar quarter of 2011, and volume production is slated for the third quarter. The SoC is packaged in an environmentally friendly, RoHS/green-compliant 441-pin fine pitch ball grid array (BGA) and priced at $9.50 each in volume quantities.