Five new devices feature ultra-low profiles down to 1.0 mm, high maximum frequency to 5.0 MHz, and inductance up to 47 µH
Vishay Intertechnology, Inc. launched a new family of low-profile, high-current inductors in the 0806, 1008, 1111, and 1515 case sizes. The IFSC devices combine ultra-low profiles down to 1.0 mm with a high maximum frequency and a wide range of standard inductance values from 0.47 µH to 47.0 µH.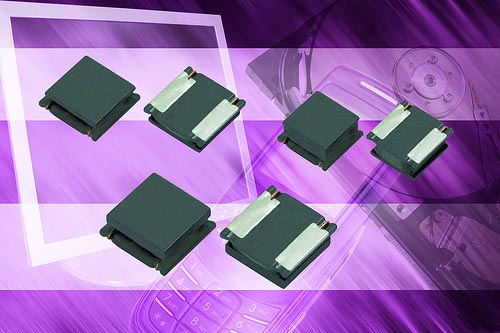 With a frequency range up to 5.0 MHz, the five IFSC inductors announced today serve as high-performing, space- and power-saving solutions for DC/DC converter applications in end products including LCD displays, hard disk drives, digital video cameras, smart phones, tablets, and PDAs; low-profile, high-current power supplies; and point of load (POL) converters.
The devices offer an inductance range from 0.47 µH to 47.0 µH, a saturation current range from 0.235 A up to 5.5 A, typical DCR from 17 mΩ to 2367 mΩ, and maximum DCR from 22 mΩ to 2840 mΩ.
The new inductors are RoHS-compliant and 100 % lead (Pb)-free. These shielded devices are specified for an operating temperature range of –55°C to +125°C, with high resistance to thermal shock, moisture, mechanical shock, and vibration.
Device Specification Table:
Part number

IFSC-
0806AZ-01

IFSC-
1008AB-01

IFSC-
1111AB-01

IFSC-
1111AZ-01

IFSC-
1515AH-01

Footprint (mm)

1.6 x 2.0

2.0 x 2.5

2.9 x 2.9

2.9 x 2.9

3.8 x 3.8

Profile (mm)

1.0

1.2

1.2

1.0

1.8

Frequency

Up to 5.0 MHz

Up to 5.0 MHz

Up to 5.0 MHz

Up to 5.0 MHz

Up to 5.0 MHz

Inductance (µH)

1.0 to 22.0

0.47 to 22.0

2.2 to 22.0

1.0 to 47.0

0.56 to 47.0

Saturation current (A)

0.43 to 1.88

0.56 to 3.9

0.55 to 1.7

0.235 to 1.5 A

0.56 to 5.50

Typ. DCR (mΩ)

96 to 2367

25 to 910

82 to 630

55 to 1800

17 to 495

Max. DCR (mΩ)

115 to 2840

29 to 1050

98 to 756

68 to 2050

22 to 594