Micrel rolled out the MIC5281 and MIC5282, two high performance linear regulators designed for noise-sensitive applications such as industrial, networking, telecom infrastructure equipment and bias power supplies. Both the MIC5281 and MIC5282 are currently available in volume quantities, with 1K pricing starting at $1.00 and $1.10 respectively.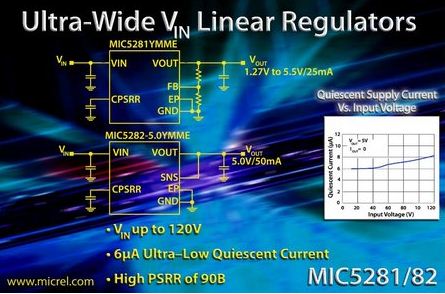 "With its industry-leading quiescent current of 6µA and PSRR of greater than 90dB, both the MIC5281 and MIC5282 offer a plethora of benefits to the designers that are focused on improving efficiency and low noise in industrial and telecom systems," noted Doyle Slack, senior marketing director for Analog. "Along with these core features, the linear regulators offer the benefits of withstanding transient input voltages of up to 120V and generating a clean voltage rail to maximize system performance."
These devices operate over a very wide input operating voltage range, up to 120V DC, and supply an output current of up to 25mA and 50mA respectively. Ideal for high input voltage applications such as industrial and telecom, the MIC5281 and MIC5282 offer ±3 percent initial accuracy, extremely high power supply rejection ratio ( > 90dB) and ultra-low quiescent current of 6µA. The devices are offered in both fixed output voltage (3.3V/5.0V) and adjustable output voltage (1.27V to 5.5V) options. The solutions operate over the -40degC to +125degC temperature range and are available in lead-free, RoHS compliant 8-Pin ePad MSOP and 8-Pin MSOP package options.