Intersil has developed a compact, high-efficiency 1.2A buck-boost regulator that uses a proprietary H-Bridge Buck-Boost control architecture. The ISL9110's compact size makes it ideal for battery-powered devices such as handheld instruments, games, point-of-sale systems and similar applications.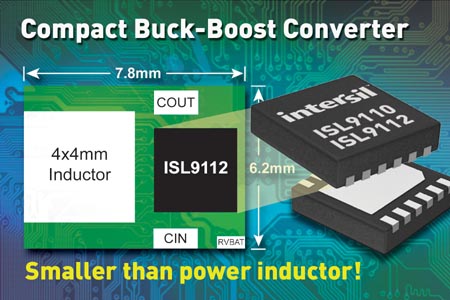 The ISL9110 simplifies design by providing a regulated output voltage from an input that can be either above or below the output voltage. The regulator minimizes external components, requiring just a single inductor and two capacitors. It also features the industry's lowest voltage deviation during transitions between buck and boost modes, providing designers with flexibility in selecting the optimal output voltage. The ISL9110's 2.5MHz switching frequency is also the highest available in a buck-boost regulator, further minimizing external component sizes.
The device can deliver more than 2A at 2Vout or 1.2A at 3.0Vout from a single Li-Ion battery (the industry's highest current capability in a tiny 3x3mm footprint). External feedback resistors can set the output voltage on the ISL9110's adjustable version to deliver output voltages as low as 1V, an important capability for loads such as RF power amplifiers.
Pricing and Availability
The ISL9110 is available now in a compact 12-pin, 3x3mm TDFN package with either fixed output voltages of 3.3V or 5.0V, or with an adjustable output. Pricing starts at $2.08 each in 1,000-piece quantities.
Additional Features and Benefits
Input voltage as low as 1.8V (ideal for alkaline or NiMH battery powered systems)
Up to 95% efficiency in buck (step-down) mode
Over-current, under-voltage and over-temperature shutdown
Mode/Sync pin controls PFM/PWM operation and switching frequency
Switching frequency can be synchronized up to 3.25MHz
Applications
Smart Phones and Tablet Computers
Handheld Devices
Point-of-Load Regulators