Chip simplifies timing architecture for wired and optical communication line cards
Texas Instruments Incorporated introduced a highly integrated clock generator featuring the industry's best jitter performance. The LMK03806 offers designers the ability to synthesize their required clock frequencies from a single low-cost crystal, enabling a dramatic reduction in component count of up to 80 percent, board size, and bill of materials (BOM) cost by up to 50 percent, while improving performance over legacy solutions.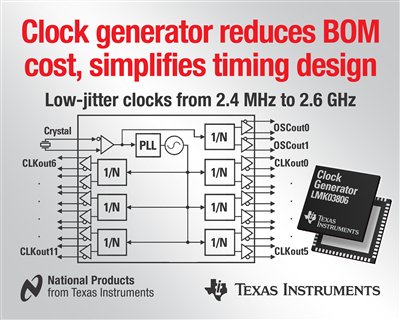 The LMK03806 simplifies timing architectures in wired and optical communications line cards by simultaneously synthesizing seven independent frequencies on 14 outputs. With an output frequency that spans 2.37 MHz to 2.6 GHz, the LMK03806 provides clocking support for all of the components on a typical line card.
Key features and benefits of the LMK03806
High-frequency voltage-controlled oscillator (VCO) and programmable output dividers: Simplifies timing design by simultaneously generating a wide array of common frequencies.
Ultra-low jitter: Sub-50 femtosecond (fs) rms jitter at 312.5-MHz output frequency improves bit error rate and carrier-to-noise ratio performance.
Programmable LVDS, LVPECL and LVCMOS: Each output clock is independently configurable, eliminating the need for level translators and fanout buffers.
Crystal interface: Allows designer to use a low-cost crystal for simultaneously generating multiple clocks.
The companion LMK00301 differential fanout buffer/level translator accepts a single-ended, differential or crystal input, and produces 10 additional buffered copies of the input clocks of up to 3 GHz in LVDS, LVPECL or HCSL format. The LMK00301 features best-in-class jitter performance, generating 51 fs rms jitter at 156.25 MHz, and less than 30 fs rms at 312.5 MHz output frequency when paired with the LMK03806 clock generator. Its extreme flexibility allows clock designers to address several additional markets, including wireless infrastructure and industrial applications.
The LMK03806 and LMK00301 clocking ICs can be combined with TI's TMS320C6748 DSP and TMS320C66x multicore DSPs to offer a signal-chain solution.
Availability, packaging and pricing
The LMK03806 is available today in a 9-mm × 9-mm, 64-pin LLP package for a suggested retail price of $7.95 in 1,000-unit quantities. Also available today, the LMK00301 is supplied in a 7-mm × 7-mm, 48-pin LLP package for a suggested retail price of $2.95 in 1,000-unit quantities.