Diodes has announced an LED driver tailored to fit low voltage illumination products operating at between 6V and 30V. The AL8805, a 1A rated buck mode constant current switching converter, will support up to ten 3W LEDs connected in series, suiting a range of low cost 'safe electrical' designs including the ubiquitous MR16 lamp.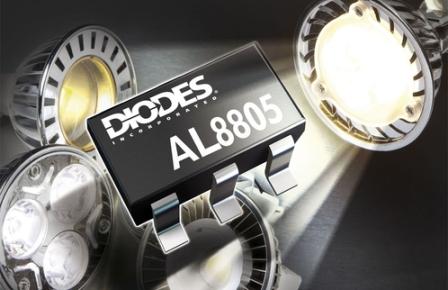 The driver's typical constant current output accuracy of 5%, irrespective of source voltage and LED chain length, is more than sufficient to meets the needs of low cost lighting products, ensuring uniform LED brightness and good inter-lamp matching without the need for ballast resistors.
With nominal output current determined by external resistor setting, LED dimming is simply achieved by either a DC voltage or PWM signal on the AL8805's control input. A DC voltage between 0.5V and 2.5V yields an output current between 25% and 100% of nominal, while a PWM signal between normal CMOS or TTL levels offers a highly flexible 1000:1 dynamic dimming range. On/off control is provided via a <0.4V signal applied to the same control input.
The LED driver's enhanced switching speed and low on-resistance provide 1MHz switching frequency capability which reduces the size of the external components required in thermally demanding environments. The AL8805 is provided in the SOT25 package and is priced at $0.90 USD in 1000 piece quantities.