Utilizing Latest AllnGaP Technology, Super Red, Red, Amber, Soft Orange, and Yellow LEDs Provide High Luminous Intensity to 1400 mcd
Vishay Intertechnology announced the release of a new series of power MiniLEDs in ultra-compact 2.3 mm × 1.3 mm × 1.4 mm SMD packages. Utilizing the most advanced AllnGaP technology to increase light output by a factor of three, devices in the VLMx233.. series are AEC-Q101 qualified for automotive applications and are offered in super red, red, amber, soft orange, and yellow.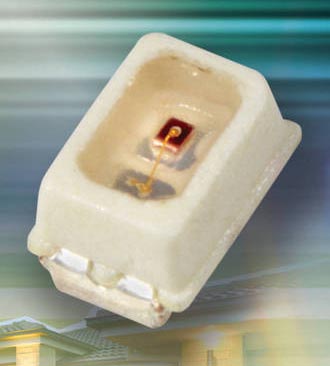 The high-intensity LEDs released today provide low thermal resistance junction/ambient of 480 K/W and power dissipation up to 130 mW, which in turn enables high drive currents up to 50 mA. The devices' small size and high luminous intensity to 1400 mcd makes them ideal for automotive applications like interior instrument backlighting and exterior accent lighting; for traffic signals and signs; and for indicators and backlighting for audio and video equipment, LCD switches, and illuminated advertising.
The LEDs feature a ± 60° angle of half-intensity and a luminous intensity ratio per packing unit of less than 1.6, and are categorized, per packing unit, for luminous intensity and color. Compliant to RoHS Directive 2002/95/EC and in accordance to WEEE 2002/96/EC, VLMx233.. series devices are available in 8 mm tape and are compatible with IR-reflow soldering processes and preconditioning according to JEDEC Level 2a.
Device Specification Table
Series

Color

Luminous intensity

VLMS233..

Super red

280 mcd to 900 mcd

VLMR233..

Red

355 mcd to 1120 mcd

VLMK233..

Amber

450 mcd to 1400 mcd

VLMO233..

Soft Orange

450 mcd to 1400 mcd

560 mcd to 1120 mcd

VLMY233..

Yellow

355 mcd to 1120 mcd
Samples and production quantities of the new LEDs are available now with lead times of eight weeks for larger orders.