Market-leading AMOLED IC family gains extra performance edge as advanced displays show multi-billion dollar potential
The latest miniature power chip from STMicroelectronics is produced using an advanced technology that could see it used in nearly every new smartphone or small electronic device that has an AMOLED (Active-Matrix Organic Light-Emitting Diode) display.
ST already supplies over 80% of the world's ICs for powering AMOLED displays, which are ultra thin and promise even more vivid displays and wider viewing angles than today's LCDs. Increasing use in smartphones and other slim-line electronics such as digital cameras and appliance user interfaces will drive annual AMOLED shipments to $3.6 billion by 2015, from just over $600 million in 2008, according to analysts at IHS iSuppli; each AMOLED would require a driver/power-supply chip.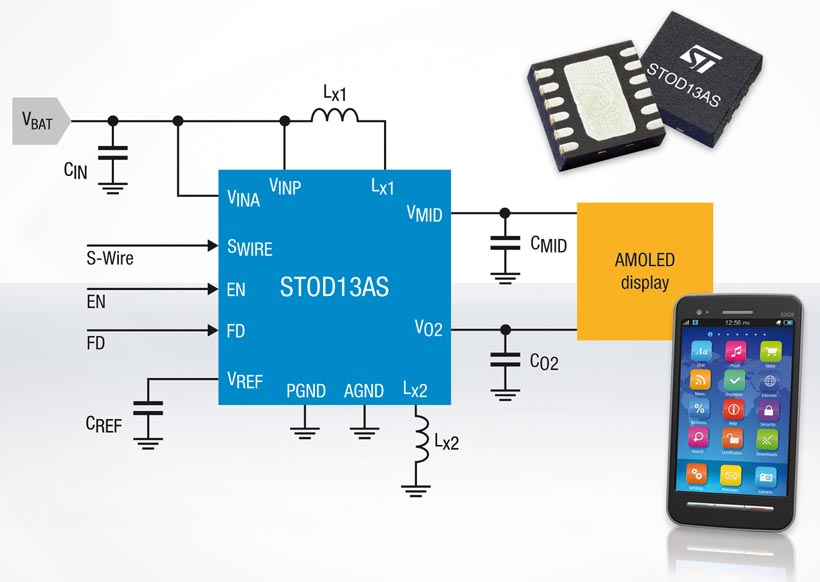 AMOLEDs have more complex power requirements than LCDs and need both a positive and negative voltage. ST's dedicated AMOLED power ICs add value to new designs by simplifying power-supply circuitry. The new chip, the STOD13AS, is produced using ST's innovative Silicon On Insulator (SOI) process technology, which ensures outstanding energy efficiency and results in longer battery life. In addition, high immunity to cellphone-communication noise produces a consistent, flicker-free display.
As the successor to ST's popular STOD03A, the STOD13AS integrates the step-up and inverting DC/DC converters needed to generate the positive and negative supplies on the same chip; another advantage of its SOI technology. Other enhancements include increased display-driving capability as well as additional short-circuit and overload protection modes to maximize ruggedness and reliability. There are also energy-saving features that help maximize battery life such as an Enable pin, which allows the application to completely turn off the STOD13AS when it doesn't need to use the display, and pulse-skipping operation that optimizes efficiency when the display is consuming minimal power.
Major features of STOD13AS:
Advanced Silicon-on-Insulator manufacturing technology
Typical efficiency of 85%
Output current capability increased from 200mA to 250mA
Low output ripple and high immunity to GSM noise
1.5MHz operating frequency enabling small external components
2.5V-4.5V input voltage range
+4.6V positive output
User-programmable negative output voltage
The STOD13AS is in volume production now, in the DFN12L 3 × 3mm package, priced at $1.08 for orders of 1000 units. Alternative pricing options may be available for higher quantities.