element14, Premier Farnell's collaborative global electronics community, is unveiling the STM32F2 based DEVKIT1207 evaluation kit with STMicroelectronics at Embedded World in Nuremberg.
The kit is designed to be a complete development environment for STM32F207IGT6 devices and said to enable engineers to rapidly evaluate, prototype and test designs built around the STM32F207xx series microcontrollers. A range of hardware peripherals are exposed on the board and an industrial level 3.5in lcd with resistive touch screen is provided.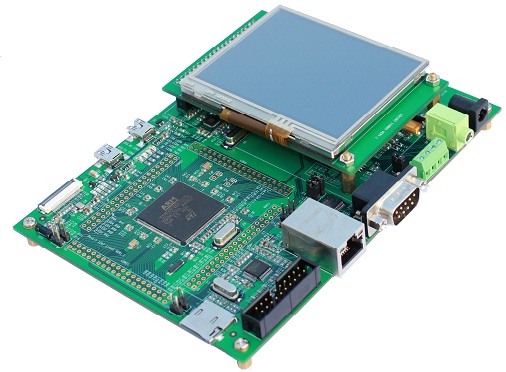 Micrium's uC/OS RTOS has been ported to the board, as has FreeRTOS for LwIP Ethernet applications. From the Knode on element14, developers can access the Micrium BSP, FreeRTOS source code, design examples, board schematics and user manuals. The DEVKIT1207 is designed for applications such as microcontrollers, automotive, industrial control systems and wireless networking. For sensing applications a G-sensor 3-Axis Acceleration Sensor is fitted.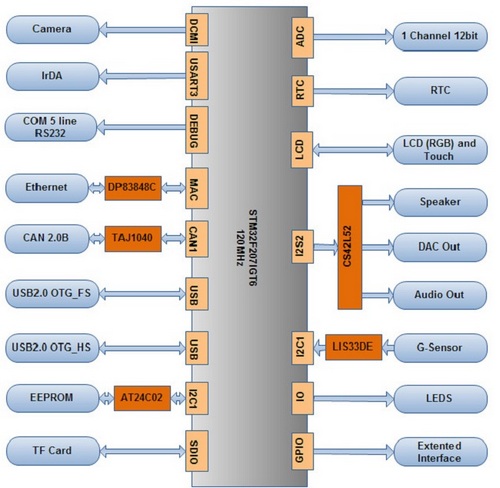 The STM32F207IGT6 flash microcontroller is based on the ARM Cortex-M3 32bit risc core operating at a frequency of up to 120MHz, with high speed embedded memories (1Mb of flash memory and 128Kb of system sram) and 4Kb of backup sram.
The STM32F2 family is supported by the MDK-ARM 4.20 and above, a demo version of MDK ARM 4.22a is supplied with the kit.