Low-Cost I2C RTCC Device Includes 64 Bytes SRAM, Digital Trimming Circuit That Can Compensate Up to 11 Seconds Per Day for Crystal Error
Microchip Technology Inc. announced the expansion of its stand-alone Real-Time Clock/Calendar (RTCC) family with the I2C MCP7940M RTCC device. This new device is designed for the price-competitive consumer products market, and includes 64 Bytes of SRAM as additional scratchpad memory, as well as a digital-trimming circuit that can compensate up to 11 seconds per day for crystal error. The MCP7940M devices provide accurate timekeeping at a low cost for applications in the home-appliance (e.g., microwaves, washing machines, dryers, ovens, thermostats); audio/video (e.g., radios, televisions, set-top boxes, digital recorders); and consumer-electronic markets (e.g., printers, network routers, cameras ), among others.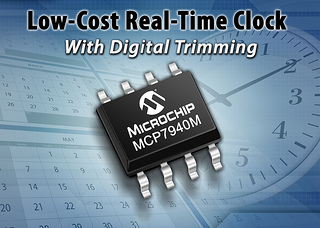 Following the launches of Microchip's stand-alone I2C MCP79410 and SPI MCP795WXX/BXX RTCC devices in 2010 and 2011, respectively, the MCP7940M device has a simple feature set that meets the needs of the high-volume segment of the RTCC device market. Microchip now has stand-alone RTCC devices for the low, mid and upper-mid ranges of this market. The on-chip digital trimming circuit has a wide trimming range of +/-127 ppm, enabling designers to select lower-quality crystals for their designs to reduce overall system costs.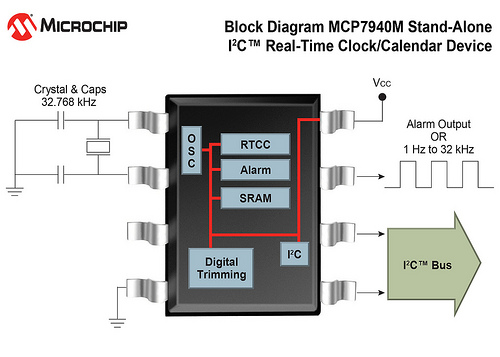 "After receiving many customer requests for low-end real-time clocks and conducting our own analysis of this market, we developed the MCP7940M RTCC device," said Randy Drwinga, vice president of Microchip's Memory Products Division. "By offering a price-competitive RTCC that also includes 64 Bytes of SRAM and a digital-trimming circuit for higher accuracy, we believe that our solution will have a distinct advantage over the competition."
Development Support
Microchip's MCP79410 RTCC PICtail Plus Daughter Board (part # AC164140, $45) is available, today. The board works with Microchip's Explorer 16 Development Board (part # DM240001, $129.99), PIC18 Explorer Board (part # DM183032, $99.99), PICkit Serial Analyzer (part # DV164122, $49.99), and XLP 16-bit Development Board (part # DM240311, $59.99).
Pricing & Availability
The MCP7940M RTCC is available today in 8-pin MSOP, PDIP, SOIC, TSSOP and 2 mm x 3 mm TDFN packages. Pricing starts at $0.45 each, in 10,000-unit quantities.