Athletes are always on the lookout for ways to enhance their performance. For cyclists, pushing their endurance limits needs to be matched with the best available technology to translate their best physical efforts with equal results on the track. During training and competing, compare personal bests and visually tracking lap times can be of tremendous help with a device like the one the Oakley GPS. The design allows cyclists to keep an eye on their performance via an OLED Micro-Display Lens technology-fitted pair of eye-wear that are mated to performance and position tracking tech as well as real-time GPS.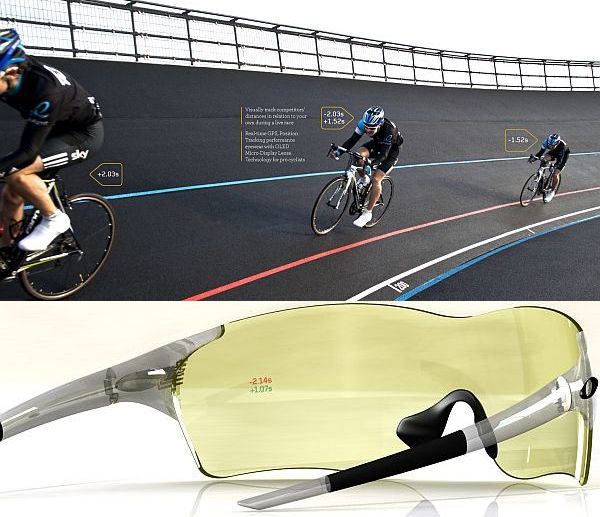 The yellow tinted lens of the Oakley GPS eye-wear performs better than other colored lenses by removing more glare and UV rays and providing clarity. The eyewear is crafted out of a clear polycarbonate frame that is strong and durable as well as lightweight and flexible since it is made with injection-molded plastic. To combat sweating and slippage, the eye-wear is designed to tighten the grip as the cyclists' body temperature rises, thanks to Oakley Unobtanium Ear Sleeves and Oakley Unobtanium Nose Piece that increase grip with the rise in moisture level.
The aerodynamic single solid lens shape keeps the wearer sun protected with its anti-glare, anti-fog and scratch-proof construction, making it ideal for all weather conditions. To provide optimum clarity at all times, the Oakley GPS eyewear repels sweat, water and skin oils, thanks to a weather resistant Oakley Hydrophilic Lense Coating. The Oakley GPS eyewear is fitted with an OLED micro-display chip and a GPS position-tracking chip to help cyclists keep track of their positions along circuits and routes. The OLED micro-display can project an image onto the retina via a transparent lens display to make images appear as if they were a meter in front of the wearer.