600V IGBTs Increase Power Density, Meet Stringent Energy Guidelines
Fairchild Semiconductor has expanded its Short Circuit Rated IGBT product offering to provide motor drive designers higher efficiency, increased power density and improved reliability for three-phase motor drive applications where low-losses and short-circuit ruggedness features are essential.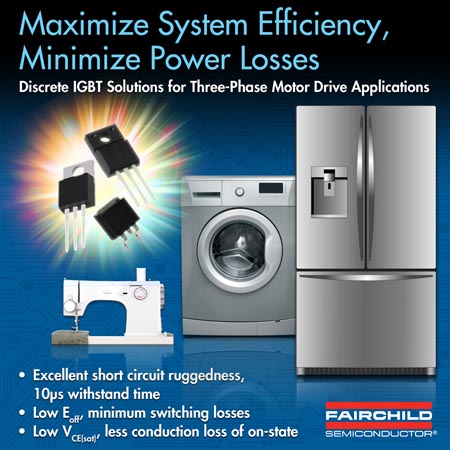 Available in low- to high-current ratings of 5A to 15A, these 600V IGBTs minimize power loss and reduce power dissipation with low VCE(SAT) ratings while meeting stringent energy saving guidelines. The devices offer 10µs short-circuit withstand time (at VCE=350V, VGE=15V Rg=100Ω, Tj=150˚C) and fast switching speeds to provide increased system efficiency.
Features and Benefits:
Packaging and Pricing Information (in US 1,000 quantity pieces)
Samples Available upon Request - Delivery 8-12 weeks ARO.
D2PAK package:

FGB7N60UNDF – US $0.87;
FGB5N60UNDF – US $0.92

TO-220 package:

FGP10N60UNDF – US $1.03;
FGP15N60UNDF – US $1.15

TO-220F package:

FGPF10N60UNDF – US $1.05;
FGPF15N60UNDF – US $1.20
As a part of Fairchild's complete motor control solutions, these 600V IGBTs optimally perform when paired with the FAN7389 (active-high) and FAN73892 (active-low) monolithic three-phase gate-drive ICs. It is through comprehensive solutions like this as well as the broad range of SPM® devices, IGBTs, gate drivers, PFC-PWM combos, MOSFETs, phototransistors and diodes that make Fairchild the ideal motor control solution for circuit designers that need to maximize energy savings in power sensitive applications.