Low-leakage bypass IC enhances power efficiency and lowers cost of ownership in safety-oriented signage, vehicle lamps and street/traffic lighting
LED lights for critical applications such as vehicle lights, streetlamps and emergency lights are even more dependable and long-lasting thanks to a new fault-management chip from STMicroelectronics.
The new chip, the LBP01, is used in lamps that comprise multiple channels each containing several LEDs. Without the LBP01, failure of a single LED can extinguish an entire channel, significantly reducing total light output and demanding early replacement. The LBP01 bypasses failed LEDs so that the lamp can continue producing near-maximum illumination. This improves performance and safety, and can yield valuable savings for operators such as city authorities, as the total cost of replacing a streetlamp can be as much as $700.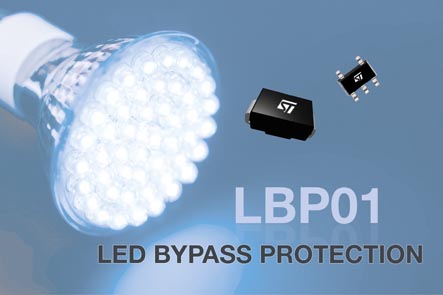 The LBP01 delivers some important advantages over comparable devices in the market. By offering the flexibility to use one bypass for every two LEDs, it enables designers to reduce bill-of-materials costs, as competing devices typically can only bypass one LED each. It also provides built-in surge protection to help prevent LED failures occurring.
Markets for safety-oriented LED signage and lighting, including automotive lighting and streetlighting, are predicted to exceed $5 billion by 2015. The LBP01 can also be used to enhance LED-backlight longevity in LCD panels for a wide variety of applications. To maximize design-in opportunities, ST is offering the LBP01 in two package options giving designers the choice of a 3.95 × 5.6 mm SMB package to replace competing devices directly or a 3 × 3.05 mm SOT23-5 package enabling a more compact solution.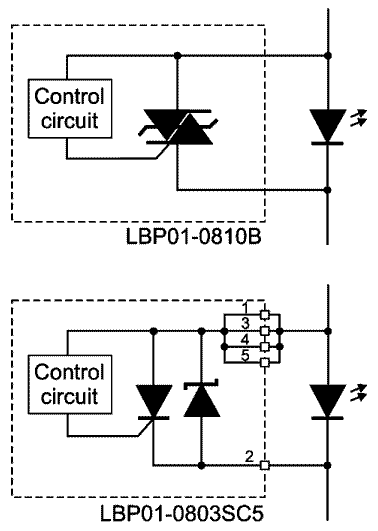 Functional diagrams.
Major features of LBP01:
100 nA leakage current
Can be used with LED channel current up to 1 A
Built-in surge protection meeting IEC 61000-4-2 (8 kV & 15 kV) & IEC 61000-4-5 (1 kV, 24 A)
Сompatible with DC and PWM driving waveforms
Unidirectional (LBP01-0803SC5) and bidirectional variants available
The LBP01 is in production now, priced from $0.19 in the SOT23-5 package or $0.21 in the SMB package, for orders over 1,000 pieces. Alternative pricing options for higher quantities are available on request.