Microchip Technology Inc., announced its MCP19111, the world's first Digitally Enhanced Power Analog controller, which expands Microchip's diverse range of intelligent DC/DC power-conversion solutions. Microchip also announced the expansion of its high-speed MOSFET family, with the new MCP87018, MCP87030, MCP87090 and MCP87130. These are 25V-rated, 1.8 mΩ, 3 mΩ, 9 mΩ and 13 mΩ logic-level MOSFETs that are optimized specifically for Switched-Mode-Power-Supply (SMPS) applications. The MCP19111 Digitally Enhanced Power Analog controller, a new hybrid, digital and analog power-management device, in combination with the expanded MCP87XXX family of low-Figure-of-Merit (FOM) MOSFETs, supports configurable, high-efficiency DC/DC power-conversion designs for a broad array of consumer and industrial applications.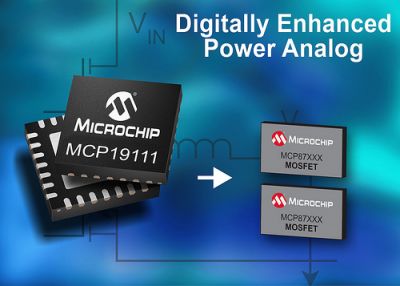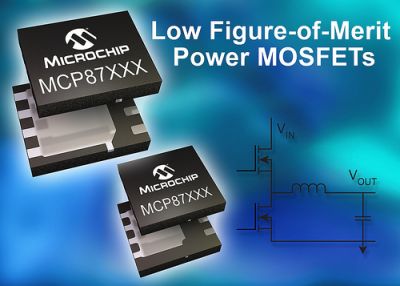 The MCP19111 Digitally Enhanced Power Analog family operates across a wide voltage range of 4.5 to 32V and offers a significant increase in flexibility over conventional analog-based solutions. In fact, the MCP19111 offers the world's first hybrid, mixed-signal power-management controller, integrating an analog-based PWM controller with a fully functional Flash-based microcontroller. This integration offers the flexibility of a digital solution, with the speed, performance and resolution of an analog-based controller. The MCP19111 devices support operation up to 32V, and have integrated MOSFET drivers configured for synchronous, step-down applications. When combined with Microchip's expanded family of high-speed MOSFETs, the MCP19111 drives customizable, high-efficiency power conversion.
Development Support
The MCP19111 Evaluation Board (part #ADM00397, $49.99), which also includes Microchip's High-Speed MOSFETs, is available now. This evaluation board is offered with standard firmware, which is user-configurable through an MPLAB® X IDE graphical user interface (GUI) plug-in. The combined evaluation board, GUI and firmware allow power-supply designers to configure and evaluate the performance of the MCP19111 for their target applications.
Pricing & Availability
Pricing starts at $2.81 each for the MCP19111 controller and $0.28 each for the MCP87030/090/130/018 Power MOSFETs, in 5,000-unit quantities. All are available now for sampling and volume production, except the MCP87018 with expected availability in February. The MCP19111 controller is offered in a 5x5 mm, 28-pin QFN package. The MCP87030 and MCP87018 MOSFETs are offered in a 5x6 mm, 8-pin PDFN package. The MCP87090 and MCP87130 MOSFETs are offered in both a 5x6 mm, 8-pin PDFN package, as well as a 3.3x3.3 mm, 8-pin PDFN package.