Kyocera Display America has announced three new TFT-LCDs that will be added to its extensive TFT-LCD product line. The three new products are a 7.0" WVGA and two 8.4" SVGA TFT-LCD displays. All displays feature Super Wide Viewing technology and two of them are super high brightness for sunlight readable outdoor applications.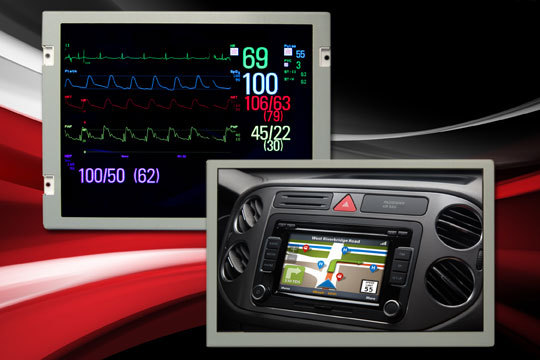 Super Wide Viewing technology delivers true color and the best optical performance. It enables people to view images with vivid color from any angle.
Designed with the latest long lifetime LED backlight, the LCD panels achieve brightness levels as high as 1200 nits (cd/m2), and provide an ideal solution for medical, automotive and any outdoor applications requiring sunlight readability.
The LED driver circuit is integrated into the LCD module, with full dimming function, so no additional components are required to drive the backlight. The backlight itself is specially designed to provide lower power consumption by using the latest technology for LED chips and light guides. The new TFT-LCDs are designed with standard LVDS interface, and offer a wide operating temperature range of -30 to 85 ºC.
| | | | |
| --- | --- | --- | --- |
| | T-55785GD070J-LW-ABN | T-55786GD084J-LW-AAN | T-55786GD084J-LW-ACN |
| Size | 7.0" | 8.4" | 8.4" |
| Resolution | 800 × 480 | 800 × 600 | 800 × 600 |
| Brightness | 1000 nits | 600 nits | 1200 nits |
| Viewing Angle (U/D/L/R) | 85/85/85/85 | 85/85/85/85 | 85/85/85/85 |
| Contrast Ratio | 500:1 | 500:1 | 500:1 |
| Interface | LVDS | LVDS | LVDS |
| Operating temp | -30 ~ 80 ºC | -30 ~ 80 ºC | -30 ~ 80 ºC |
| LED driver | Built-in | Built-in | Built-in |
| Production | April 2013 | April 2013 | April 2013 |
| Sample | Now | Now | Now |