JEDEC UFS Ver.1.1 standard compliant embedded memories combine up to 64GB NAND and controller in single package
Toshiba Corporation and Toshiba Electronics Europe have announced shipping of samples of its 64-gigabyte (GB) embedded NAND flash memory module equipped with a Universal Flash Storage (UFS) interface. The first in the industry, the new module is fully compliant with the JEDEC UFS Ver.1.1 Standard, and is designed for a wide range of digital consumer products - including smartphones and tablet PCs.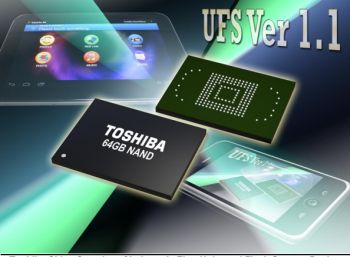 With improved data processing speeds in host chipsets and wider bandwidths for wireless connectivity, demand continues to grow for large density, high-performance memory that supports high-resolution video. A proven innovator in this key area, Toshiba is reinforcing its leadership role by being the first in the industry to ship samples with a 64GB UFS module. Samples are mainly intended for evaluation of the UFS interface and its protocol in host chipsets and by OS vendors. Toshiba will schedule mass production of the 64GB UFS module, as well as other densities in its lineup, according to market demand.
Key Features
The JEDEC UFS Ver.1.1 compliant interface handles essential functions, including writing block management, error correction and driver software. It simplifies system development, allowing manufacturers to minimize development costs and speed up time to market for new and upgraded products.

UFS has a serial interface and scalability in terms of number of lanes and speed.

The new products are sealed in a small FBGA 12mm × 16mm × 1.2mm package and have a signal layout compliant with JEDEC UFS Ver.1.1.
Specifications
Part Number

THGLF0G9B8JBAIE

Density

64 GB

Interface

JEDEC UFS Version 1.1 standard

Power Supply

Voltage

2.7V to 3.6V (Memory core)

1.70V to 1.95V (Controller core)

1.10V to 1.30V (UFS I/F signals)

Number of lanes

Downstream 1 lane / Upstream 1 lane

Interface Speed

Speed 2.9Gbps/lane

Temperature range

-25°C ... +85°C

Package

169 ball 12mm × 16mm × 1.2 mm FBGA