Dialog SmartBond Bluetooth low energy wireless connectivity chip doubles the battery life of app-enabled smartphone and tablet accessories and computer and Smart TV peripherals.
Dialog Semiconductor launched SmartBond (part number DA14580) – the world's lowest power and smallest Bluetooth® Smart System-on-Chip (SoC) which more than doubles the battery life of an app-enabled smartphone accessory or computer peripheral in comparison to competing solutions on the market. It's designed to connect keyboards, mice and remote controls wirelessly to tablets, laptops or Smart TVs and enable consumers to use innovative new apps on their smartphones and tablets ‒ connected with watches, wristbands and smart tags ‒ to "self-track" their health and fitness levels, locate lost keys and much more besides.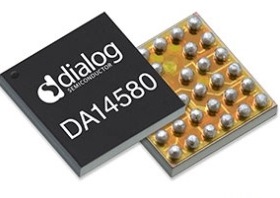 SmartBond is the first Bluetooth Smart solution to break the 4mA current barrier for wireless transmission and reception, enabling designers to double a product's battery life or reduce the number and size of cells required. Its unique low power architecture draws just 3.8 mA at transmission and reception – 50% less than other Bluetooth Smart solutions on the market – with a deep sleep current of under 600nA. This means a 225 mA·h coin-cell battery in a product sending 20 bytes of data per second would last 4 years and 5 months in comparison to just 2 years with previous generations of Bluetooth Smart technology.
The DA14580 features a power management block, including a DC-DC converter and all the necessary LDOs, reducing the need for external components and the overall bill of materials. By precisely switching on and off power delivery to each block on the chip, Dialog is able to reduce energy consumption to a bare minimum. SmartBond works at much lower voltages than was previously possible – down to 0.9V – enabling the use of just one alkaline or NiMH cell AA battery instead of two in computer or smart TV peripherals. This opens up exciting new possibilities for designers to create ultra compact and novel form factor products while reducing the total system costs.
The DA14580 also has a size advantage. It comes in three different form factors – the smallest Wafer-Level Chip-Scale (WL-CSP) is just 2.5 × 2.5 × 0.5 mm. This enables Bluetooth to be now added to the most space-constrained wireless accessories.
The Dialog DA14580 is currently available in sample quantities for select customers with production scheduled for Q4 2013.