TI's new device delivers fast and precise power monitoring for communications applications
Texas Instruments (TI) introduced the industry's first digital current sensor and voltage monitor with simultaneous sampling and SPI interface. The LMP92064 integrates a precision current sense amplifier and two 12-bit analog-to-digital converter (ADC) channels that simultaneously capture voltage and current data, while the SPI interface transfers real-time data at up to 20 MHz. This enables the device to provide the highest precision power calculations of any device on the market today. The LMP92064 is used in applications where precise power monitoring is crucial, such as communications infrastructure applications, including telecom, servers and central office equipment.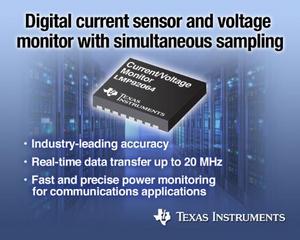 Key features and benefits of the LMP92064:
Industry-leading accuracy: The combination of simultaneous sampling, maximum input offset voltage of ±15 uV, and maximum gain error of less than ±0.75 percent delivers unparalleled accuracy compared to the competition.
Fastest conversion rate: The 125-ksps conversion rate is 19 times faster than the competition, which allows designers to measure power fluctuations more accurately.
Higher bandwidth: Designers can communicate with the device using a four-wire SPI interface at speeds up to 20 MHz, which is six times faster than the nearest competitor's I2C interface.
Easy isolation barrier interface: The unidirectional input and output lines enable easy interfacing to isolation devices, such as the ISO7141CC quad-channel digital isolator.
Packaging, availability and pricing
The LMP92064 is available now in a 16-pin, 5-mm x 4-mm WSON package for a suggested retail price of US$1.99 in 1,000-unit quantities.
Tools and support
The LMP92064 evaluation module (EVM) quickly demonstrates the functionality of the current shunt monitor. The EVM includes a USB interface and software to configure and monitor the performance of the device.
A SPICE model is also available for designing, testing, and troubleshooting a broad variety of basic and advanced circuits, including complex architectures, without any node or number of device limitations.