Infineon released Driver SBC is the first family in a new generation of System Basis Chips (SBS) from Infineon. It is a monolithic integrated circuit in an exposed pad VQFN-48 (7mm × 7mm) power package. This new family includes several variants to suit all application needs.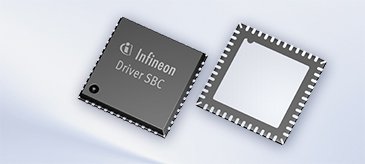 The Driver SBC is designed to function as a main supply for the microcontroller and an interface for a CAN-LIN bus network (supporting CAN partial networking if required) in various CAN-LIN automotive body applications. The feature set includes a 5V low-dropout voltage regulator (LDO) to supply the microcontroller, a 5V low-dropout voltage regulator with short-circuit protection against supply voltage (Vs) to supply the sensor, a HS CAN transceiver and LIN transceiver for data transmission, fully protected low- and high-side switches and a 16-bit serial peripheral interface (SPI) for device monitoring and control.
Driver SBC also comes with a window watchdog circuit with a reset feature as well as a fail output and an undervoltage reset feature. The device features low-power modes for applications that are permanently connected to a battery. It can be woken up from low-power mode by means of a bus message, bi-level sensitive monitoring/wake-up inputs or a cyclic wake function. Driver SBC is designed to withstand the harsh automotive environment.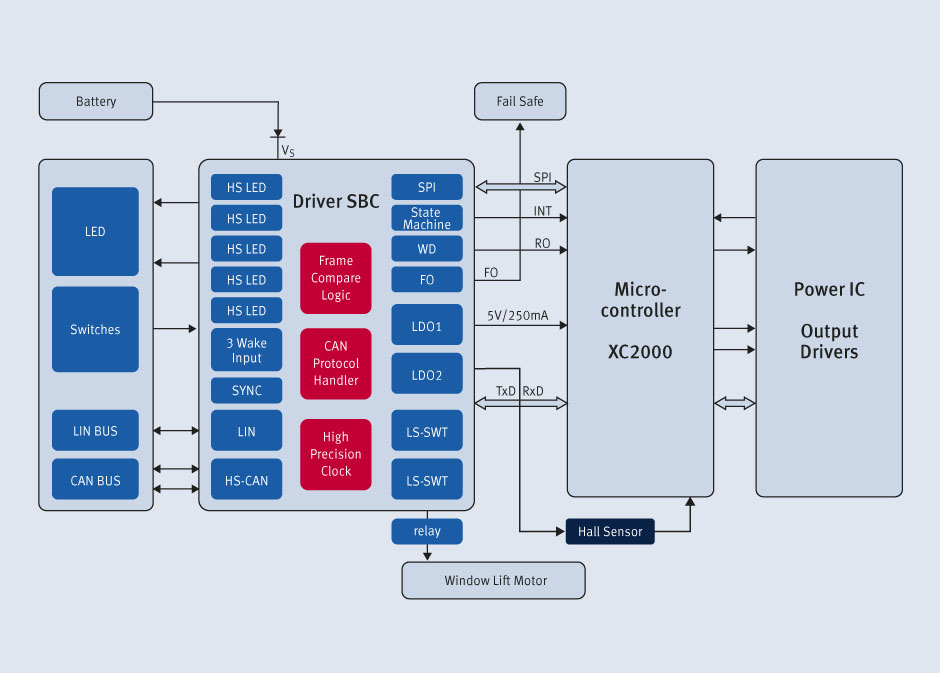 A demo board is available to simplify device evaluation and speed up the design-in phase. The demo board can be connected to the "XC2000 power easy kit" and controlled via USB using a powerful and intuitive graphical user interface (GUI) installed on a computer.
Additional SBC families will be released in the upcoming months to fulfill different automotive ECU requirements. All SBC families in this new generation are software-compatible and, whenever possible, hardware-compatible to reduce the effort involved in software and hardware development.
Features
Periodic cyclic sense in normal, stop and sleep mode
Periodic cyclic wake in normal and stop mode
5V, 250mA low-dropout voltage regulator
5V, 100mA low-dropout voltage regulator, robust against short to Vs
High-speed CAN transceiver in line with ISO11898-5/-6 with partial networking
LIN transceivers LIN2.1 & LIN2.2, J2602
Two low-side outputs for relay drive with active zener clamping
Two 2Ω typ. high-side outputs, Four 7Ω typ. high-side outputs, for example for LED lighting or cyclic sensing
Four independent PWM generators and two on/off timers
Three universal high-voltage wake inputs for voltage level monitoring with cyclic sense functionality
Alternate high-voltage measurement function, for example for battery voltage sensing
One universal low-voltage wake input for voltage level monitoring with cyclic sense functionality
SYNC input for external cyclic sense control via a micro controller
Reset output and fail-safe output
Overtemperature and short-circuit protection feature
Wide input voltage and temperature range
Green product (RoHS-compliant) & AEC-qualified
VQFN-48 leadless package supports automatic optical inspection (AOI) through leap tip inspection (LTI)
Applications
Door modules
Power seat modules
Roof modules
Door closing devices (trunk, sliding door, etc.)