Devices feature ultra-low quiescent current; engineered to address stringent electromagnetic compatibility requirements without external noise filtering
To help manufacturers and systems designers more easily achieve compliance with increasingly stringent industrial and automotive safety requirements, Freescale Semiconductor announced a family of robust CAN transceivers designed for high-speed performance and reliability.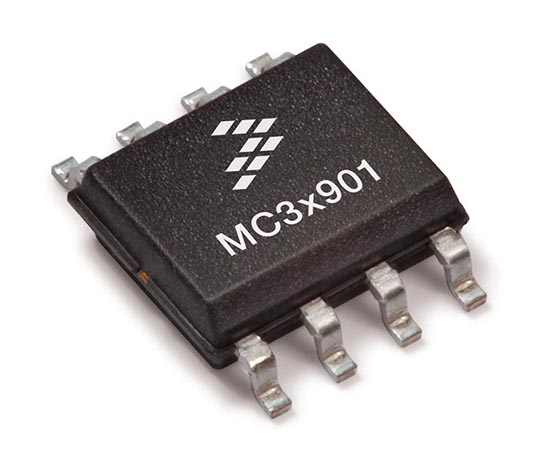 Electromagnetic compatibility (EMC) and electrostatic discharge (ESD) are critical requirements in harsh industrial and automotive environments due to the close proximity of a wide range of networked electronic systems and devices. Freescale's MC33901 and MC34901 chokeless CAN high-speed physical layer transceivers deliver outstanding EMC performance and high ESD robustness without the need for external components, thereby reducing overall system costs. The devices also offer fail-safe features to assist with system functional safety, as well as exceptionally low quiescent current down to 8 micro amps.
The MC33901 and MC34901 products convert digital protocol information into analog CAN communication across in-vehicle networks, as well as long-length CAN node interconnect for industrial applications. The devices are ideal for a broad range of applications including safety-critical industrial motor control, factory automation and industrial robotics systems, as well as automotive body electronics, power train and infotainment systems. Both products offer outstanding performance at 2 Mbps baud rate to address CAN FD (flexible data) application requirements.

Product specifications and features
Robustness: Exceeds stringent EMC and ESD requirements without added choke (

±

6 kV ESD, >36 dBm DPI)
Low Power Mode: quiescent current down to 8 micro amps
Industrial-Ready: Supports long-length CAN node interconnect for industrial applications
Designed for EMC: Low emission design combined with high immunity for optimum EMC performance
Pin-for-pin compatible with industry standard
5 V and 3.3 V I/O compatibility with auto-detect
Industry-specific product options:

Automotive: Built-in "Tx Dominant Timeout" feature (MC33901)
Industrial: Built-in support for long-length and low baud rate networks (MC34901)
Development support and availability
The MC33901 and MC34901 devices are planned for availability in Q2 2014. The majority of Freescale's analog products meet critical industrial market requirements, including operation across extended temperature ranges. These products are designed and manufactured with rigorous process controls, and qualified using industry standard methodologies designed to yield defect rates in line with the stringent requirements of the automotive market. The MC33901 and MC34901 devices, in addition to most of Freescale's analog products for industrial, are included in Freescale's product longevity program, which provides assurance of supply for a minimum of 10 or 15 years from the time of launch.