The MLX80153 is the next generation of the 80151 OTP (One Time Programmable) Half Bridge Motor Controller, offering more program and RAM memory. Like the previous generation MLX80151, the focus applications are PWM controlled DC Engine cooling fans, HVAC blowers and fuel pumps. Additionally the MLX80153's two high side drivers with individual PWM control are able to individually control dual engine cooling fans with separate power control and partial stall detection.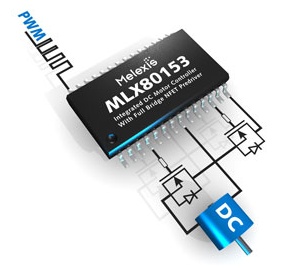 The integrated dead time control of the MLX80153 is ideal to realize cost effective full NFET half bridge solutions, reducing peak on board dissipation by as much as 30% compared to solutions using freewheeling diodes. Motor currents up to 30 A can be controlled on full SMD PCB's using cost effective and reliable DPAK NFETs. A double charge pump avoids the need for Logic Level transistors. Extensive (c-code) software libraries and application software examples, including examples for partial stall detection using current limiting, or using BEMF monitoring, are available.
For development a pin compatible Flash variant (MLX80154) is available. The user friendly development kit includes evaluation boards and a PWM master with USB interface.