Analog Devices Introduces Low-Power, Easy-To-Use Radio Transceiver for Industrial Applications
Analog Devices, Inc. announced a low-power radio transceiver featuring a set of configuration profiles that allow radio performance optimization, reducing system development time and shortening time-to-market by months. The ADF7024 transceiver is suitable for a wide range of industrial applications, including security and building automation. The short range transceiver is designed for use in the 433-MHz, 868-MHz, or 915-MHz ISM frequency bands, and is suitable for operation under European ETSI EN300-220 and North American FCC Part 15 regulations. ADI also introduced today ADRadioNet, a wireless protocol stack for low-power networks, and the EVAL-ADF7024MB4Z evaluation and development platform for use with the ADF7024 transceiver.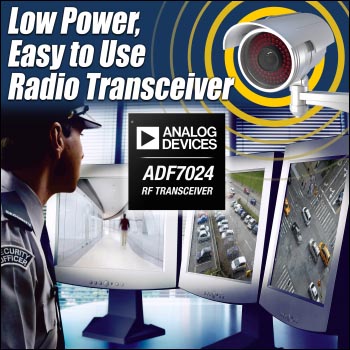 AD7024 Transceiver Key Features
Smart wake modes and fast mode transitions for low power consumption
Ultra-low-power sleep modes for longer battery life
Programmable output power up to +13.5 dBm in 0.5 dB steps
Receiver sensitivity –111 dBm at 9.6 kbps
Blocking: 76 dB at 10 MHz offset
ADRadioNet Wireless Protocol Stack Key Features
Self-healing, multi-hop wireless network
Royalty-free when used with ADI transceivers
Stateless routing; allows instantaneous recovery power up
Network robustness through the use of channel diversity
EVAL-ADF7024MB4Z Evaluation and Development Platform Key Features
Easy to use evaluation GUI
Selectable radio profiles
Example microcontroller code
Pricing and Availability
Product

Availability

Price Each
Per 1,000

Packaging

ADF7024

July

$1.59

5-mm × 5-mm 32-pin LFCSP

EVAL-ADF7024MB4Z Evaluation
and Development Platform

July

$200

N/A
You may have to

register

before you can post comments and get full access to forum.
News on theme:
RadioLocman on the Social Web: