IC output couplers in SO6L package measure just 10 mm × 3.8 mm × 2.1 mm
Toshiba Electronics Europe is offering two new low-profile IC output photocouplers for directly driving low- to medium-power IGBTs and power MOSFETs. The TLP5701 and TLP5702 are supplied in ultra-miniature SO6L package with dimensions of just 10 mm × 3.8 mm × 2.1 mm.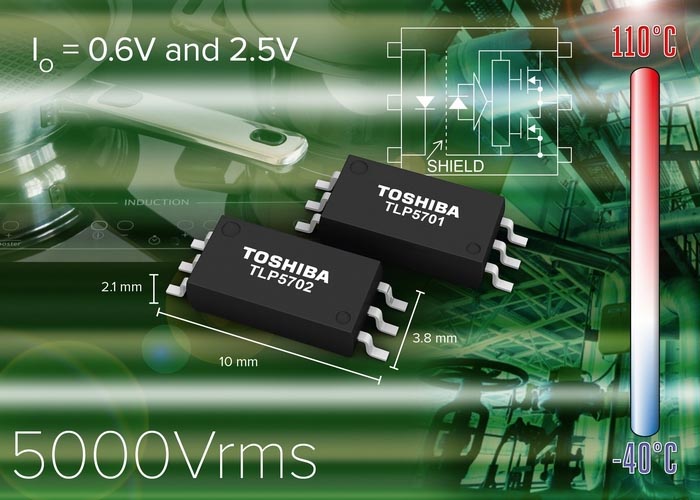 Despite their small size, the new devices have a minimum isolation voltage rating of 5000 Vrms and guaranteed creepage and clearance distances of 8 mm. As a result they can be used to save space in designs that require safety standard certification. In addition the couplers offer guaranteed performance and specifications at temperatures ranging from –40 °C to 110 °C.
Potential applications for the new photocouplers will range from home appliances and inverters to factory automation and control equipment. The TLP5701 has a peak output current of ±0.6 A and is optimised for low-power IGBTs and power MOSFETs. A peak output current of ±2.5 A makes the TLP5702 ideal for driving medium-power devices.
Toshiba's new couplers use the latest GaAlAs infrared LED and integrated high-gain, high-speed photodetector technology to deliver high-performance operation. An internal faraday shield ensures a guaranteed common-mode transient immunity of ±20 kV/μs. Maximum propagation delay time is rated at 500 ns for the TLP5701 and 200 ns for the TLP5702.
The SO6L form factor is 54% the height of products that use a DIP8 package and requires just 43% the board mounting area.