Increasing environmental concerns and ever more stringent legislation are driving the demand for more energy efficient vehicles. Increasing the operational effectiveness and decreasing the environmental impact of the powertrain necessitates higher working temperatures which must be strictly controlled and monitored at all times. Melexis now announces the MLX90327, a high performance sensor interface IC which enables accurate and reliable monitoring of high operating temperatures, thus addressing this key requirement for next generation powertrains. The device can cope with operating temperatures of from -40˚C to 150˚C without any compromise in accuracy being witnessed.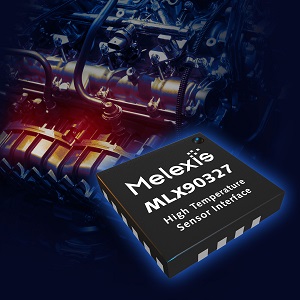 The MLX90327 comes with a digital SENT interface for advanced powertrain electronic control units (ECUs). In addition a PWM output is available for general-purpose automotive and non-automotive applications. With this device it is possible to condition and monitor both Pt-sensors and thermocouples. The latter allows to measure temperatures up to 1300˚C. Several on-board-diagnostics features are included, allowing detection of sensor faults should they occur. In addition extensive protection against overvoltage and electro-static discharge (ESD) events ensure longevity.
The high temperature capabilities of MLX90327 will have direct environmental advantages, in terms of allowing more energy efficient turbo chargers and better cleaning treatments of exhaust gases. This is achieved through the higher operating temperatures supported in the exhaust gas recirculation (EGR) system, the diesel particle filter and the diesel oxidation catalyst. Applications are not necessarily restricted to the powertrain however, for example the braking systems of trucks will also benefit from reliable and accurate measurement of elevated temperature, as will high temperature industrial processes.