Vishay Intertechnology released a new 20 V n-channel TrenchFET® power MOSFET in the ultra-compact, thermally enhanced PowerPAK® SC-70 package. Providing increased power density and reliability for portable electronics, the Vishay Siliconix SiA466EDJ offers the industry's highest package limited continuous drain current for a 20 V MOSFET in the 2 mm by 2 mm footprint area, and is the only such device with a VGS rating of ± 20 V to provide integrated ESD protection.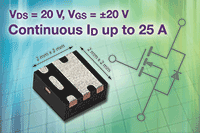 The SiA466EDJ's 25 A package limited continuous drain current is 13 % higher than the closest competing device. In load switch applications, the high current rating provides an additional safety margin for large in-rush currents and fault conditions including short circuits. The MOSFET's 2500 V integrated ESD protection prevents static damage from handling or human body contact.
The device released today is a versatile solution for power management in portable equipment designs. The combination of a high current rating and excellent on-resistance times gate charge figure of merit (FOM) optimizes synchronous buck converters and load switches in wireless and fast battery chargers, smart phones, tablets, notebook computers, and e-locks.
To increase efficiency in high-frequency switching applications, the SiA466EDJ's low on-resistance of 9.5 mΩ (10 V), 11.1 mΩ (6 V), and 13.0 mΩ (4.5 V) reduces conduction losses, while its low 6.3 nC typical gate charge and 0.9 Ω gate resistance minimize switching losses. The MOSFET is 100 % RG-tested, RoHS-compliant, and halogen-free.
Samples and production quantities of the SiA466EDJ are available now, with lead times of 13 weeks for large orders.