Vishay Intertechnology introduced a new tantalum-cased wet tantalum capacitor with a glass-to-tantalum hermetic seal that is approved to Defense Logistics Agency (DLA) drawing 15005. For avionics and aerospace systems, the device is the industry's first wet tantalum capacitor approved to DLA 15005 to combine a reverse voltage of 1.5 V at +85 °C with improved vibration (sine: 50 g; random: 27.7 g) capability and thermal shock of 300 cycles.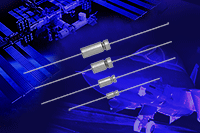 Providing all the advantages of Vishay's SuperTan® series devices — while offering improved reverse voltage for higher performance and enhanced vibration and thermal shock capabilities for increased reliability — the DLA 15005 electrolytic capacitor is optimized for timing, filtering, energy hold-up, and pulse power applications in power supplies for space and avionics equipment.
The device is initially offered in the axial T4 case size, with current voltage of 75 V, high capacitance of 1000 µF, and capacitance tolerance of ± 10 % and ± 20 % standard at 120 Hz and + 25 °C. The development of additional ratings and case sizes is underway. The DLA 15005 operates over a temperature range of -55 °C to +85 °C, to +125 °C with voltage derating, and provides low maximum ESR of 0.50 Ω at 120 Hz and +25 °C.
The capacitor released today features standard tin / lead (Pb) terminations, with RoHS-compliant 100 % tin terminations available.
Samples and production quantities of the DLA 15005 are available now, with lead times of 10 weeks for larger orders.