Radiotelevisión de Veracruz (RTV), the public broadcaster of the Mexican state of Veracruz, has been using four digital R&S THU9 high-power transmitters from Rohde & Schwarz since late 2014. Like all Mexican broadcasters, RTV has until the end of 2015 to ensure its broadcasts are transmitted in the digital ATSC standard, which will run alongside analog TV for the time being. RTV decided to use Rohde & Schwarz transmission and measuring equipment as well as services for the transmitter sites to be upgraded.
The Mexican state of Veracruz hosted the Central American and Caribbean Games in November 2014. This strengthened the government's resolve to provide its broadcasting corporation with digital transmitters before the official switchover deadline. The Games were to be broadcast in HD quality. This would make it possible to meet the requirements of the regulatory authority while addressing viewer desires for high-resolution images. To meet these needs, RTV decided to use Rohde & Schwarz R&S THU9 high power transmitters. The excellent efficiency of the R&S THU9 transmitters also had an impact on this decision, as the broadcaster was dissatisfied with the high electricity costs of its analog transmitters. The R&S THU9 offers outstanding energy efficiency of up to 42 percent for ATSC broadcasts, which, in turn, reduces energy costs by up to 50 percent.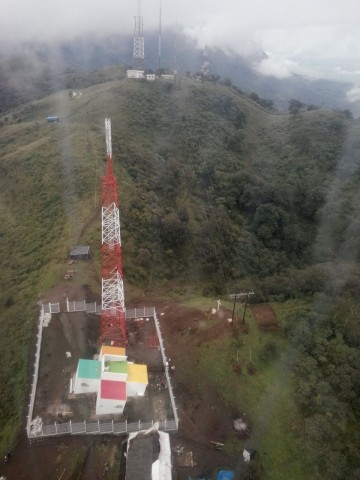 RTV contracted Rohde & Schwarz to equip the Coatzacoalcos, Ocozotepec, Las Lajas and Potroltepec transmitter sites, which now have transmitters with output powers ranging between 5 kW and 20 kW to support ATSC, analog TV and FM broadcasting. The project was created as a complete solution. That meant that Rohde & Schwarz integrated other manufacturers' products in addition to its own transmission and measuring equipment. The additional items include transmission lines, antennas, voltage regulators, microwave connections, emergency power systems and monitoring devices. The R&S ETL TV analyzer, R&S FSH3-TV portable TV and spectrum analyzer, R&S DVSG digital video signal generator and R&S NRP2 power meter from Rohde & Schwarz were also integrated as part of the overall system.
Rohde & Schwarz even took on overall responsibility for planning and carrying out the construction work at the Potroltepec site, as the entire station moved to a new location. The new transmitter building is situated in a rain forest and designed to match the RTV logo. It features a moisture and rainwater capture system to supply the location's water needs.