R. Colin Johnson

EE Times

Vesper claims highest signal-to-noise at 68 dB
In its rush to get to market "while the iron is hot," Vesper Technologies Inc. (Boston) has announced what it still claims is the industry's highest signal-to-ratio (SNR) for a high-definition (HD) microelectromechanical system (MEMS) microphone, even though it is scaled back to 68 dB rather than the astounding 70 dB SNR MEMS mic they previously promised.
"Our roadmap now calls for the 70 dB version in 2016, followed by an ultra-miniature, low-power 72 dB model in 2017 and a 75 dB signal-to-noise ratio model by 2018," Vesper Chief Executive Officer Matt Crowley told EE Times. "Even at 68 dB, our current model VM101 almost doubles the performance compared to current high-end 65 dB SNR capacitive MEMS microphones."
The key to Vesper's high SNR is its use of the piezoelectric aluminum-nitride wurtzite crystals in its unique four-triangle diaphragm forming a square (see photo) with the sound squeezing through the gaps between the triangles, causing them to vibrate thus creating a piezoelectric current. According to Vesper, the sensitivity of its piezoelectric material doubles the distance that sounds can be heard, does dramatic noise cancellation that improves the clarity of phone conversations and minimizes the errors made during voice-commands. And when used in multi-mic set-ups, its high-SNR mics can more easily form beams directly to the person speaking – what retailers call "audio zoom" – to further increase the accuracy of voice-enabled applications, according to Vesper.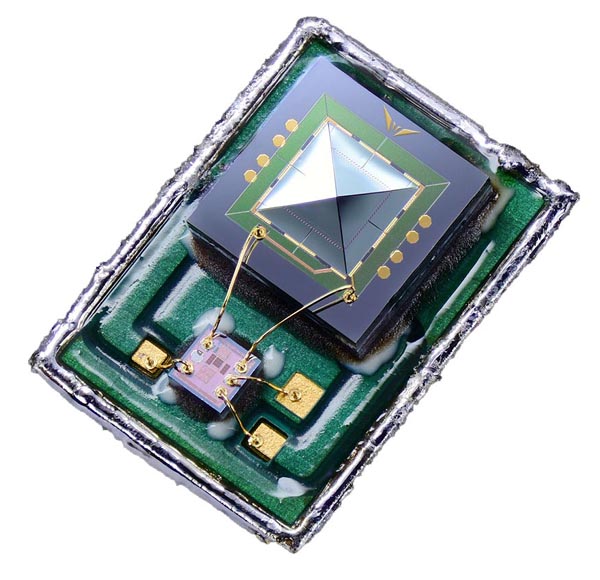 Vesper's tiny 0.5 millimeter square piezoelectric MEMS diaphragm (top) is wire-bonded to an analog application specific integrated circuit (ASIC, bottom). (Source: Vesper).
Crowley reiterated that Vesper was sticking to its business plan of supplying MEMS wafers full of tiny 0.5-by-0.5-by-0.25 microphones to top tier original equipment manufacturers (OEMs) to which they add a single-ended analog application specific integrated circuit (ASIC) and can package in a standard 3.35-by-2.5-by-1 millimeter package (making them a drop-in replacement for capacitive MEMS microphones).
Selling wafers only is the strategy that Infineon uses with its MEMS mics, allowing it to capture a vast swath of the worldwide market including MEMS mic manufacturers AAC, Goertek, BSE, Hosiden and Gettop, all of which use Infineon MEMS dies today. The addition of Vesper's HD wafer-only sales strategy should boost its units-shipped over calling on individual smartphone, wearable and Internet-of-Things (IoT) makers, which IHS predicts will grow to 5.4 billion units reaping $1.3 billion by 2017 (see figure).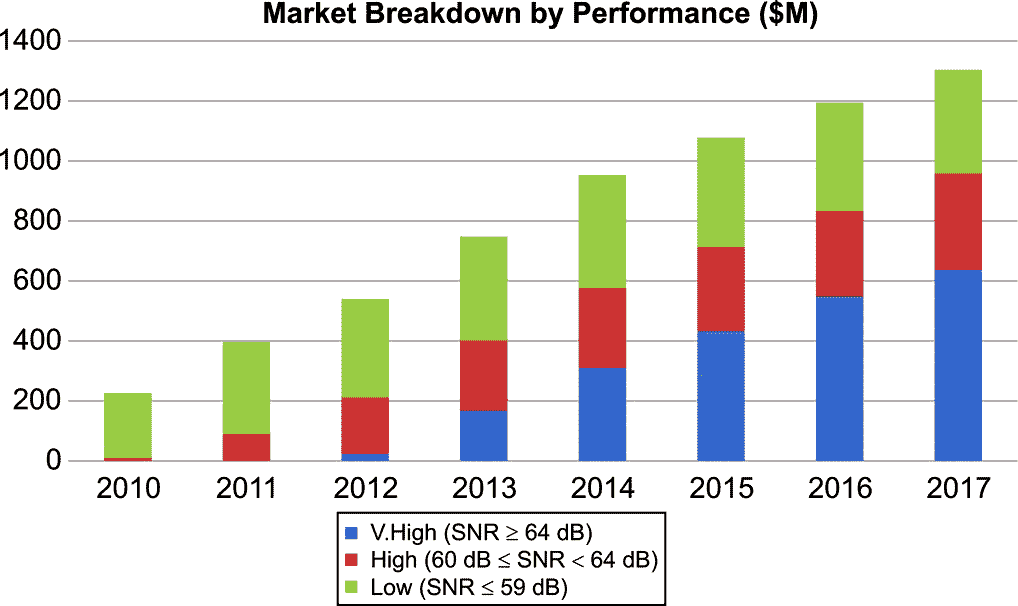 The high definition (HD) microphone market (blue) is the fastest growing market segment of microelectromechanical system (MEMS) predicted comprise almost half of the total $1.3 billion market by 2017. Click here for larger image. (Source: IHS).
Vesper is also banking on cracking the automotive market which uses up to 20 MEMS mics in advanced models to beam-form (audio zoom) and cancel noise, according to Co-founder and Chief Technology Officer CTO at Vesper, Bobby Littrell.
"Automotive is using two mics per passenger for beam forming, a row of mics for active noise cancellation and in some cases MEMS mics for diagnosis of engine problems and of course to listen for crashes," Littrell told us.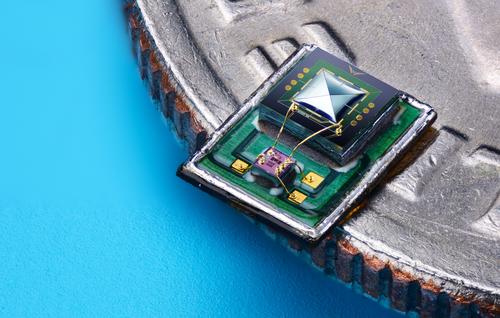 Vesper's piezoelectric bottom-port microphone requires no backplate, shown here without its lid on the edge of a dime. (Source: Vesper).
Vesper also boasts that its piezoelectric microphone's consume just 150 micro-amps plus have a start-up time that is 5,000-to-10,000-times faster than capacitive mics – in 5-to-10 microseconds instead of up to 50 milliseconds for today's capacitive MEMS mics (because piezoelectrics need no charge pump activate the mic). Vesper also claims its mics are waterproof to five meters (16 feet) and immune to shock. They are also extremely resistant to dust and other particles which can cause drift that spoils beam forming and noise cancellation. Particle contamination, Crowley also claimed, is also the second most frequent fault in smartphones with capacitive mics (behind cracked screens).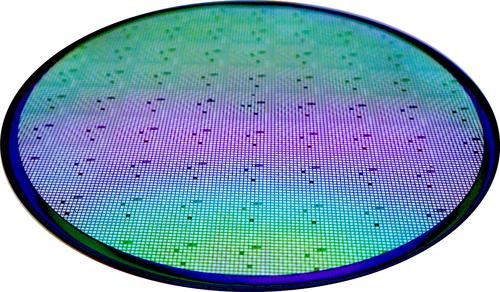 Vesper intends to sell its microphones on wafers that original equipment manufacturers (OEMs) will dice and package. (Source: Vesper).
So far they have sampled to 11 customers to package them and will be shipping early enough in the fourth quarter of 2015 that piezoelectric MEMS mics may make into some end-user products by Christmas.
Vesper licenses its piezoelectric technology from the University of Michigan and is funded by Atlas Venture (Cambridge, Mass.)