Exar Corporation introduces the XR79120 – a 20 A single output, synchronous step-down power module in a compact, market leading 12 × 14 × 4 mm footprint. Although small, the XR79120 still offers greater than 93% peak efficiency and leverages Exar's patented advanced constant on-time (COT) control architecture across a 4.5 V to 22 V input voltage range.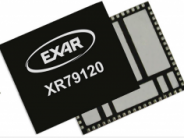 The XR79120 provides an easy to use, fully integrated power converter integrating MOSFETs, inductors, and internal input and output capacitors. QFN-based package technology provides superior thermal performance, eases electrical debugging and improves manufacturability with higher assembly yield and the ability to visually inspect solder joints. At 50°C with no airflow, no thermal de-ratings are required for output voltages of 1.8 V and below.
The XR79120 will be available in a RoHS compliant, green/halogen free, space-saving 74-pin 12 × 14 × 4 mm QFN package. The XR79120 is priced at $13.95 in 1,000-piece quantities.
Summary of features:
Fully integrated power supply
12 × 14 × 4 mm QFN package
>93% peak efficiency
4.5 V to 22 V VIN operating range
Patented emulated current mode COT control
Exceptional line/load regulation