Vishay Intertechnology announced that it has extended its 157 PUM-SI series of ultra-miniature snap-in power aluminum electrolytic capacitors with a higher rated voltage of 500 V. Designed for power supplies, industrial motor controls, and solar PV inverters, the enhanced devices save board space and lower costs by allowing designers to utilize one component instead of two 250 V capacitors.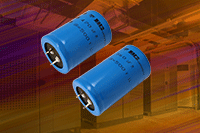 Featuring a cylindrical aluminum case, insulated with a blue sleeve, the Vishay BCcomponents snap-in capacitors are available in 23 case sizes ranging from 22 × 25 mm to 35 × 60 mm. At 500 V, the devices feature a maximum operating temperature to +85 °C and a long useful life of ≥ 5,000 hours.
As polarized aluminum electrolytic capacitors with a non-solid electrolyte, 157 PUM-SI series devices are ideally suited for smoothing, filtering, and energy storage in pulsed power applications. The RoHS-compliant capacitors are also available in a keyed polarity snap-in version.
Device Specification Table:
Case size (D × L in mm)

22 × 25 to 35 × 60

Capacitance range

56 µF to 2200 µF

Tolerance

± 20 %

Ripple current at
120 Hz and +85 °C

0.68 A to 3.68 A

Rated voltage

200 V,
250 V

400 V, 450 V,
500 V

Category temperature
range

-25 °C to +85 °C

Useful life at +85 °C

5,000 h

Max. ESR at 100 Hz

150 mΩ to 3540 mΩ

Max. impedance at 10 kHz

105 mΩ to 2930 mΩ

Sectional specification

IEC 60384-4/EN130300

Climatic category IEC 60038

25/85/56
Samples and production quantities of the 157 PUM-SI series capacitors are available now, with lead times of 10 to 14 weeks.