Renesas Electronics and emtrion, a company that assists customers during all stages of the development process and integration, announced the availability of the new emCON-RZ/G1E System-On-Module (SOM) board. The new board is designed for the quick and easy evaluation and production of high-end industrial applications using RZ/G Series of microprocessors (MPUs) from Renesas.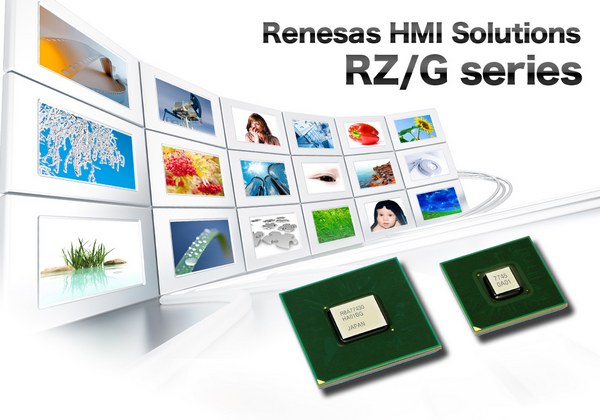 The RZ/G Series extends Renesas' already very popular family of RZ/A embedded MPUs to the high end. The MPUs enable advanced industrial applications with a focus on high speed computation and communication and the combination of advanced 3D graphics with full HD video streaming.
RZ/G MPUs are based on ARM Cortex-A7 (RZ/G1E) and ARM Cortex-A15 (RZ/G1M) dual core architectures and provide designers with the choice of high performance (ARM Cortex-A15) and high power efficiency (ARM Cortex-A7). RZ/G MPUs excel in the industrial MPU market place with a very rich feature set, including up to 10,500 DMIPS of computational performance, DDR3 memory interface, powerful 3D hardware rendering (173M polygons/sec), Full HD video playback at 60 frames per second, PCI Express, SATA, Gigabit EthernetAVB, USB3.0 and much more. The RZ/G Series is supported by an ecosystem of Renesas partners that provides system integration services, graphical user interface (GUI) frameworks, middleware, OS support, board design, as well as sales of evaluation and mass-production boards.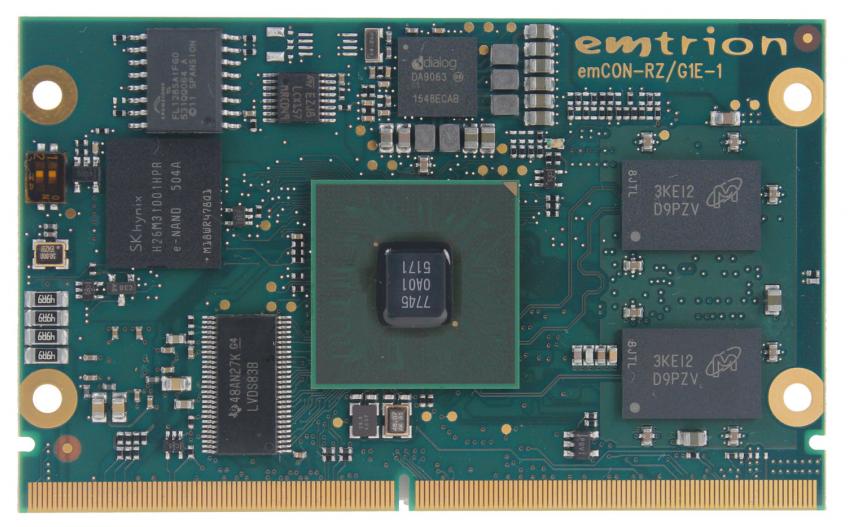 The emCON-RZ/G modules allow quick and easy evaluation, and have the additional benefit of being fully production ready. This minimises costly development time and effort for products that differentiate their manufacturers by enabling quick time-to-market. With the new emCON-series, emtrion meets the constantly increasing demands of multimedia and high-speed interfaces for embedded systems.
All the modules within the new emCON-series are pin-to-pin compatible, allowing the system manufacturer to migrate easily between them. The modules are provided with the in-house Linux Board Support Package (BSP). For the operating systems Windows® Embedded Compact 7, WEC2013, QNX or AndroidTM, the BSPs are available on request.
emCON-RZ/G1E Key features:
Board Support Package (BSP) for:

Linux (Debian)
Linux (Yocto)
Android 5.1 on request
WEC7, WEC2013 on request
QNX on request

Hardware Features:

2×ARM Cortex-A7 (dual core) 1.0 GHz
Co-Processor: ARM NEON
Flash: up to 32 GB eMMC
up to 2GB DDR3L-SDRAM
1×1000Base TX Ethernet
1×100Base TX Ethernet
2 LCD interfaces up to Full HD (1×RGB, 1×LVDS)
USB 2.0 Host and Device
2 × CAN
Digital GPIO: min. 6
2 × MMC/SD (SDIO)
RTC (battery buffered)
2 × SPI
2 × I²C

Dimensions: 82 mm × 55 mm × 10 mm.