Diodes Incorporated introduced the AL1697 LED driver. This device targets line-powered, triac-dimmable LED lighting applications. It also provides compatibility with leading- and trailing-edge triac dimmers using a single-stage, high power-factor dimming circuit that complies with the NEMA SSL-6 dimming curve, delivering optimal line and load regulation. This integrated MOSFET eliminates the need for auxiliary winding, which lowers BOM cost and enables a smaller PCB, making this an attractive and competitive solution for driving LED lamps up to 15 W.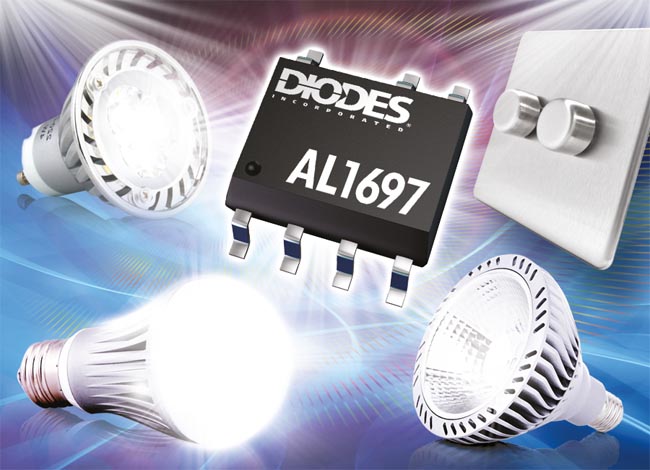 The AL1697 is a high-precision, high-efficiency, buck-boost LED driver whose topology provides an accurate output current that enables exceptional line and load regulation. This design eliminates auxiliary winding and supports non-isolated (buck-boost) operation to address the isolation requirements for different lamps. Operating in boundary-conduction mode achieves higher conversion efficiency while also reducing switching noise and eases EMI design. The device features a low, 130 μA startup current and a low operating current of 170 μA.
The MOSFET options provide a drain-source, on-resistance specification of 4 Ω for operation up to 2 A at 600 V, or a super-junction RDS(ON) of 1.8 Ω that can support 4 A at 650 V. The AL1697 offers standard internal protection features, such as output short-circuit, over-temperature, under-voltage lockout, leading-edge blanking and cycle-by-cycle over-current protection. The device also features over-voltage/output-open and thermal foldback protection for enhanced safety and reliability.