LM5033's High Integration Gives Designers Flexibility to Implement Half-Bridge, Full-Bridge and Push-Pull IBA Converter Topologies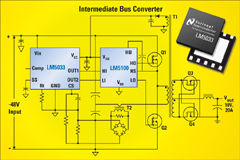 May 25, 2004 - National Semiconductor Corporation introduced the LM5033, the industry's first fully featured 100V DC-DC PWM (pulse width modulation) controller that meets the challenging specifications of the Intermediate Bus Architecture (IBA). This recently introduced architecture controls the multiple low-voltage power supply rails in complex power systems using digital ASICs, DSPs and FPGAs that are found in telecommunications, automotive and industrial applications.
As designers continue to enhance converter performance and power density, traditional power conversion techniques are giving way to new distributed power architectures such as the IBA. The IBA consists of an isolated bus converter powered from a higher-voltage distributed power rail that produces an "intermediate" lower voltage distribution bus, typically 8 V to 14 V, to feed multiple non-isolated regulators at the point of load. Since the IBA uses two stages of power conversion, the bus converter and point-of-load regulators must be more efficient and fit in a smaller board area to offer a compelling alternative to single-stage distributed power systems.
To address these challenges, National designed the LM5033 PWM controller with the flexibility to be used stand-alone in a push-pull bus converter or paired with one or two of National's LM5100 drivers in a half- or full-bridge converter design. This flexibility allows designers to produce a family of bus converters that deliver a wide range of output power levels for telecom and computing power systems.
About the LM5033
The LM5033 is a highly integrated, voltage-mode PWM controller with an internal high-voltage start-up regulator that offers the following performance, space and heat benefits:
MHz oscillator that shrinks power transformer and filter components to save space and improve transient response

Less than 100 ns propagation delay on current limit permits smaller margins in the power train components

1.5 A MOSFET drivers are capable of driving larger MOSFETs for higher power throughput

Switching frequency is set by a single resistor

The LM5033 may be synchronized, which reduces EMI, cross-talk and interference, and permits blanking during the power-switching interval in sensitive load circuits

Current sense with front-edge blanking protects the power switches without tripping on the leading-edge spike, while hiccup mode reduces device stress and power dissipation during overload or short circuit

Direct opto-coupler interface means that no external pull-up resistor is required

Minimum dead-time guarantees robust performance

Voltage mode control, which is better for half-bridge converters, has higher control noise immunity than current mode control

The reference pin may be used for primary control and housekeeping functions

Soft start reduces in-rush current, permitting sequencing and direct control of the output stages

Under-voltage lock-out with hysteresis prevents malfunctions during start-up or brown-outs

The 10-lead LLP® package has a 4 mm by 4 mm footprint (38 degrees C per W)
Pricing and Availability
Available today, National's LM5033 is priced at $1.10 each in 1K volumes. The LM5100 is also available now in a SOIC or LLP package at $1.35 each in 1K volumes.