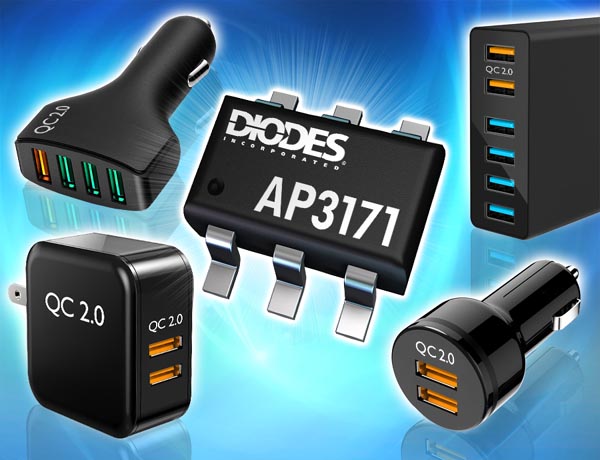 AP3171 combines PWM controller, high/low side power MOSFETs, CC/CV control and Qualcomm QC 2.0 decoder in one package so as to achieve high performance with compact profile. According to different D+/D- signal combinations, the AP3171 will set the output voltage and full current capabilities to 5 V/2 A, 9 V/2 A or 12 V/1.5 A respectively. The AP3171 automatically provides 5 V/2 A output configuration to backwards compatible to the existing devices that are not compatible to Qualcomm QC 2.0.
AP3171 has a fixed switching frequency of 120 kHz at heavy load, while at light load and no load, its zero current detection (ZCD) function takes effect to have the system enter into discontinuous current mode (DCM) to improve power conversion efficiency.
The AP3171 has versatile protection functions to guarantee a safe operation, including input voltage under voltage lock-out (UVLO), output voltage over voltage protection (OVP) and under voltage protection (UVP), inductor peak current limit and Internal over temperature protection (OTP).
Furthermore, AP3171 has cable compensation and it is adjustable by the external resistor.
The AP3171 is available in SO-8EP package.
Application
Car Charger
Automotive Power application
General DC-DC Application Need CC/CV Mode
Features
8.7 V to 40 V Input Voltage Range
Fixed 120k Operating Frequency
Integrated Two MOSFETs for Synchronization Rectification
Quick Charge Function Compatible with Qualcomm QC 2.0 Protocol
Input Protection – UVLO
Output Protection – UVP/OVP
OCP Function
Adjustable Cable Compensation
Output CC/CV Mode Function
Reference Accuracy:
CV ±1.5% CC ±4% (5 V)
CV ±2.5% CC ±5% (9 V/12 V)
Output power: 5 V/10 W, 9 V/18 W, 12 V/18 W
Internal OTP Function