Allegro MicroSystems, Inc. new ACS760 hot-swap protection IC is designed for 12 V hot-swap applications. The new device combines Allegro's Hall-effect current sensing technology with hot-swap control circuitry, resulting in a highly efficient integrated controller. No external sense resistor is required, resulting in greatly reduced I2R losses in the power path.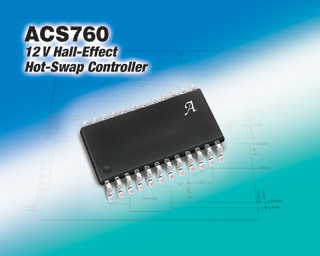 The ACS760 incorporates an external high-side FET gate drive, and produces an analog output voltage (factory trimmed for gain and offset), which is proportional to the applied current. The user-controlled soft-start/hot-swap function is accessed via the logic 'enable' input pin.
When the ACS760 is externally enabled and the voltage rail is above the internal under-voltage lockout threshold, the internal charge pump drives the gate of the external FET. When a fault is detected, the gate is disabled while simultaneously alerting the application that a fault has occurred.
Three levels of fault protection are integrated within the ACS760: 240 VA power fault protection with user-programmable delay; user-programmable overcurrent fault threshold with programmable delay; and short-circuit protection, which disables the gate in less then 2 µs.
In the event of the external high-side FET failing in a short-circuit condition, the ACS760 detects the failure, immediately disables the gate, and alerts the host system. The IC is designed for single-supply operation from 10.8 V to 13.2 V, and has 1.5 mΩ internal conductor resistance. It is protected against electrostatic discharge at up to 2 kV for all pins.
Allegro's ACS760 is supplied in 24-lead QSOP package (suffix LF), which is lead (Pb) free and RoHS compliant. Operating temperature range is -40°C to +85°C.